---
As the auspicious occasion of Raksha Bandhan beckons to light up a countless number of Indian households, there is only one thought playing on the minds of every sister in India. This all-important thought pertains to sourcing the perfect Rakhi for their loving brothers, one that brings the widest smiles onto their faces and which makes their wrists gleam with radiance.
Once you start scanning Internet catalogs while indulging in Rakhi shopping for 2018, you are bound to be left awestruck by the exquisite designs and picturesque hues on offer. The festival of Raksha Bandhan is one that commemorates the unending bond of affection shared between brothers and sisters, and it is no wonder then that, siblings in India wait with bated excitement to discover what they are going to be surprised with.
We also understand how distance and unfavorable circumstances can stretch ties and turn relationships cold. Thus, if you are unable to spend this Raksha Bandhan by your brother`s side, our Internet gifting portal is available to come to your rescue.
When you choose our website for Rakhi shopping in 2018, we offer free shipping for Rakhi delivery in India, regardless of the destination. Check out our delightful range of Rakhis online and you are sure to find just the type of Rakhi that you had in mind.
The Top 5 Trending Rakhi Designs this Festive Season
Bracelet Rakhis: If your brother is a dashing young man who loves to flaunt his style, then this would be the perfect Rakhi suited to his taste. Crafted to resemble a bracelet and incorporating a chain that can be fastened with a clip, this unique design is extremely convenient to wear. Available in silver, gold, and brass varieties, these Bracelet Rakhis ensure that heads turn towards your brother`s wrist.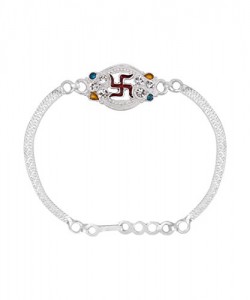 Designer Rakhis: If your brother prefers to wear designer apparels and accessories tailored to match his sense of style, then why not gift him a designer Rakhi as well. Designer Rakhis are available in a wide variety of styles and incorporate the full range of embellishments. Depending on which adornment your brother is fond of, you can choose from amongst Pearl Rakhis, Silver Rakhis, Jewelled Rakhis, Golden Rakhis, and many more adorned with turquoise and other precious stones for him.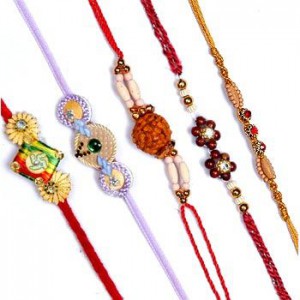 Cartoon Rakhis: What can be a better gift for your kid brother this Raksha Bandhan than a Rakhi that brandishes his favorite cartoon character on his wrist. Choose from amongst a plethora of designs such as Angry Bird, Doraemon, Minions, Ben 10, Bal Ganesha, Motu Patlu, Spiderman, Mickey Mouse, and many more to make your brother`s Raksha Bandhan, a fun-filled experience.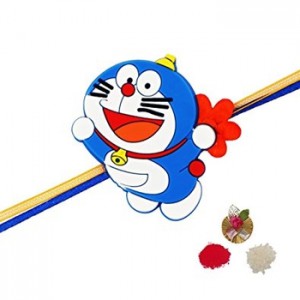 Zardosi Rakhis: If your brother is someone who is fond of everything traditional and ethnic, then this would form the perfect choice for him. These Rakhis, crafted with threaded Zari in royal shades of silver and gold, are certain to afford an opulent grandeur to your brother`s wrist.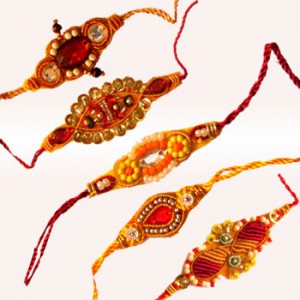 Musical Rakhis: These form the best gifts for brothers who are avid music lovers. Generally crafted in the shape of musical instruments such as guitar, piano, violin, cello, flute, and drums, these Rakhis are sure to fill your brothers` souls with much joy.
When you shop for Rakhis at our dedicated Internet portal, you are guaranteed free shipping for Rakhi delivery in India. Even if you are running late to give life to your gifting desires this Raksha Bandhan, we take away your worries by offering you an option for same day delivery for a nominal extra charge. So, indulge in Rakhi shopping this year with us for a truly fulfilling experience.
5 Rakhi Designs You Can't-Miss in 2018