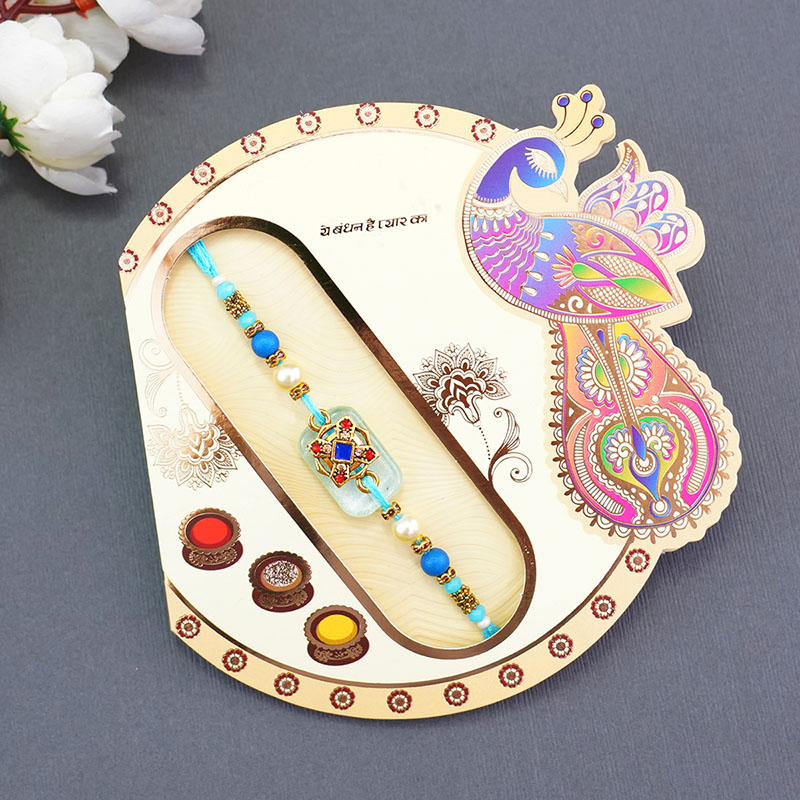 Take a walk through our best single rakhi collection
As the festive season arrives, so does the tension of our increased responsibilities. One has to manage so many things and prepare an entire list of things to do. Taking the example of Raksha Bandhan, from outfits to home decoration, from rakhi to gifts and sweets, you have to buy and arrange so many things that we sometimes go out of ideas for so many things. But we at Rakhi Bazaar cannot let you risk your rakhi shopping under the pressure of festival responsibilities. That is why we have arranged a list of our single rakhi collection for you. These exclusive rakhis have a charming effect, and you can never go wrong with our single rakhi packs. You can trust their designs and quality with closed eyes and get an express delivery of all the items mentioned below.
7 must buy single rakhi designs for Raksha Bandhan 2023:
Here is an exquisite list of the best single rakhis that are a must-buy to embellish your brother's wrist with beauty and grace:
Traditional Ganpati Designer Rakhi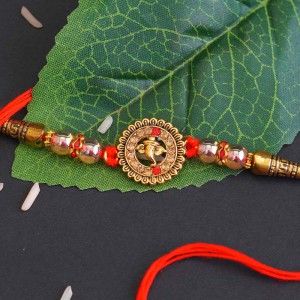 A gold rakhi with Ganpati designed on it is more than auspicious for your brother than you can imagine. Gold and Ganpati both have a very prominent place in Hinduism. One is known as the metal of Goddess Laxmi, while the other is known to bless everyone with unlimited prosperity. Aren't these factors good enough to be considered while buying a rakhi for your brother? Also, talking about the design and looks, while the rakhi is entirely traditional looking, it is crafted by keeping the trend and expectations of people in mind. Hence, Traditional Ganpati designer rakhi is a beautiful mixture of tradition and modernity. So, if you pick this one for your Raksha Bandhan celebrations, your brother will praise you for your mindful choice.
Designer Golden Rakhi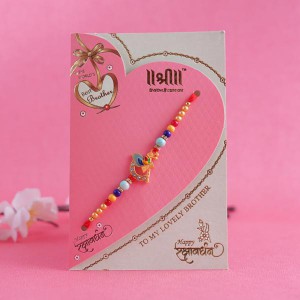 Indian festivals and vibrant colors go hand in hand. People like being clear about their choices, and these choices include colorful stuff. The decorations, pooja thalis, sweets, and even clothes, everything is full of color depicting the liveliness of our culture and tradition. So how can rakhi lose the race of flaunting its colors? If you agree with us and if you are looking for a chic, classy, and unique rakhi that is full of various beautiful colors, you should buy the designer golden rakhi from our website and get mesmerized by its classy vibrancy.
Peacock Rakhi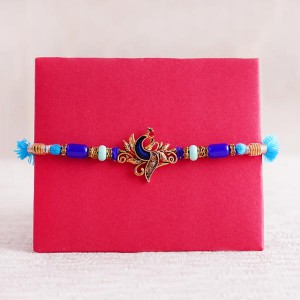 the urge to be different from the rest of the festivals is so high that we even want our rakhi design to be the most unique. And that is when a peacock rakhi steps in. If you have seen this rakhi from our collection, you will agree that the exact beauty and grace of a peacock have been transferred from the national bird of India to this exquisite rakhi. The solid blue and green-colored rakhi perfectly depict how you don't need multiple shades to stand out. If your beauty is already praiseworthy and your design has been done right, you can make heads turn, and people fall in love with you heads over heels. The peacock rakhi from our collection is a clear example of this phenomenon.
Meenakari Rakhi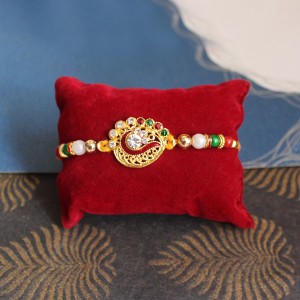 Ain't no Raksha Bandhan celebration without pearls, beads, stones, and some meenakari work on the rakhi. The specialty of this rakhi is its entire look. The meenakari rakhi looks like it has dressed up to attend a function itself and is all set to add its beauty to the festivities. It also carries the essence of the older days of rakhi designs that used to be big and vibrant. And this aspect of meenakari rakhis makes you drop the latest ones and opt for the more traditionally sound rakhis for your brother. If you want your brother to get mesmerized by the charm of meenakari rakhi, buy him this beauty and witness the love yourself.
Stone studded Designer Rakhi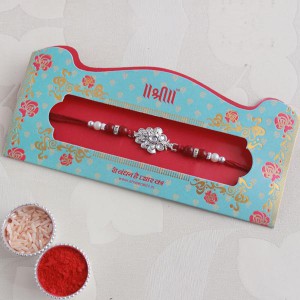 Shine bright like a diamond with this Stone studded designer rakhi. If you are in the mood to ditch the colorful and loud rakhis and go for a solid color that is also perfect for the occasion, Stone studded designer rakhi is the answer to your prayer. The perfectly made rakhi with shiny stones with beaded threads ensures it doesn't look bland at all. Shimmery silver stones combined with red colored beads give a perfect blend of colors that many like. And we are pretty sure if your brother is into something that has a mixture of subtly and vibrancy, he will love this rakhi to heaps. So, bless him with his taste this Raksha Bandhan and buy Stone studded designer rakhi.
Captivating Rudraksha Rakhi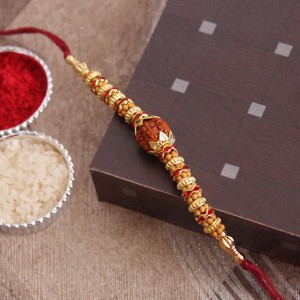 Some siblings like to add a touch of divinity to everything. They are so much in love with Lord Shiva that they add him everywhere in their lives, primarily on auspicious occasions. Especially on the occasions like Raksha Bandhan, when they get the opportunity to buy om or rudraksha rakhi, they grab the chance and buy the most beautiful rudraksha rakhi to get the divine blessings of lord Shiva. If you are a sister who idolizes Lord Shiva or if your brother is the one who worships Lord of the Lords, buys this captivating Rudraksha Rakhi and seek the blessings of the divine while celebrating the beautiful festival of Raksha Bandhan. Even if you are not too much into Lord Shiva, you can buy this rakhi for its uniqueness and beauty.
Traditional AD Stone Rakhi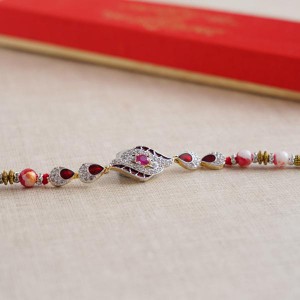 A sister never gets tired of looking for the most appealing rakhi for her brother, and there are precisely two reasons behind this factor. One is her unconditional love for her brother. Second is the uncountable options available in the market that gives you hope that there's one rakhi out there that will surely steal your heart and leave your brother amazed by its beauty. Since you are doing this much hard work for your brother, this means you haven't found that one rakhi that matches your choice. If yes, look at our collection's traditional AD stone rakhi and see if your search ends there. This is one of our best-selling products, and it has the right to be so because of its explicit beauty. End your search right here, order this beauty for your brother and leave him surprised with your choice.
We know all these choices have put you in a difficult situation, and selecting just one rakhi out of these beauties has become challenging. Then buy them all and tie them to your sibling and cousins. Remember, the festival of Raksha Bandhan is too special to overthink before purchasing anything. Just hear the voice of your heart and make the decision ASAP because there's not much time left in Raksha Bandhan.