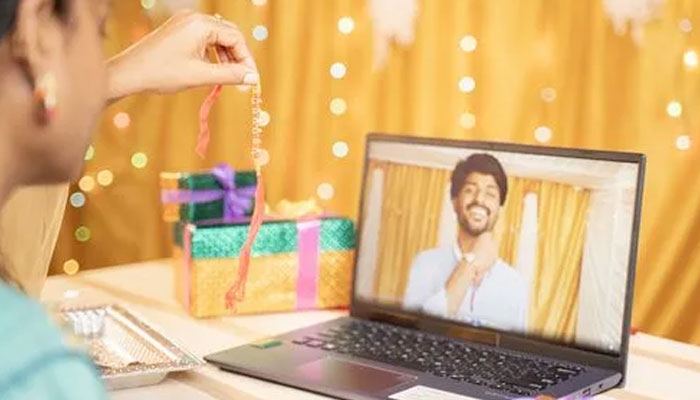 A brilliant way of celebrating virtual rakhi
Our siblings are our shadows, and no matter how much we deny it, we love them the most, and it's impossible to imagine life without them. They make any difficulty easy, have solutions to all our problems, and they are the best unpaid therapist we didn't know we needed. That is why their absence kills us from within. When we don't feel so good in their presence, no one wants to love without the people born and bought up with them
And when we get separated from our siblings because life compels us to take some significant and crucial steps in life, something inside us dies. Whether they move out because of higher studies or to get better job opportunities, we start feeling like nothing will be the same from now on. The celebrations, the festivities, the late-night gossip session, and life will lose one of its most essential colors from the picture. Raksha Bandhan is one such festival that we don't feel like celebrating without our siblings.
But with advanced means of technology and better options for virtual celebrations, it is possible to celebrate Raksha Bandhan with your siblings living out of town or abroad. Here are some of the easiest yet effective ways of celebrating virtual Raksha Bandhan that will help you miss your siblings a little less on the festival and enjoy the day a little more.
Ways to celebrate a fulfilling virtual Raksha Bandhan:
1. Cook together at the happy hour:
Match your time with your sibling's time zone and plan to Cook something together. Call it your happy hour and make a happy meal at your respective places. It can be anything, any dish or a drink, whatever you can make. It isn't compulsory to cook the exact words. You can swap cuisines as well. Ask your sibling to guide you with their native cuisine, and you help them with your home recipe. You can both cook something you enjoyed together in childhood and relish it together via video call.
2. Throw a virtual karaoke concert:
This is one of the best ideas to bond over a video call and laugh together about each other's singing talent. A karaoke concert is like a fun game where you have to sing along with a device that shows the lyrics of any random song. You can twist the game a little and sing random songs together without getting a karaoke device. The best thing is that your friends or cousins can also join this virtual celebration for a bigger and better experience. So challenge your inner singer or get ready to make your siblings laugh at your singing talent this Raksha Bandhan.
3. Have a classic movie night together:
We know it's pretty not possible for you both to have a movie night together because of the possibilities of different time zones. Still, if you can manage to take time from your busy schedules and match your time zones to each other to watch a movie, it will be an excellent idea for a power pack virtual celebration. You can watch a harry potter movie, a childhood movie, and even an animated film by sharing screens and feeling each other's presence through technology.
4. Send rakhi online:
Whether you get time for a virtual Raksha Bandhan celebration or not, you must send rakhi to USA, UK, Canada, or wherever your brother has shifted. You must ensure none of your family members misses the festival celebrations. Those who cannot attend it and are badly missing their families must get a chance to be a part of the festive celebrations in whichever way possible. And if your brother lives in the States, where he might not get a day off to enjoy a virtual celebration with you, make sure he at least performs the rituals on your behalf.
Send online rakhi to USA with gifts and have a virtually ritualistic Raksha Bandhan. You can even send rakhi with sweets to the USA with our accessible worldwide rakhi shipping facility. Your brother will tie the love-filled rakhi he got from you at your doorstep and will delicious in his favorite sweets sent by you. This way, you can make him feel happy and included and performed your favorite ritual with your dearest brother. Take Rakhi bazaar's help and send rakhi worldwide now!
5. Play online quiz
Prepare a quiz for your sibling related to you and your family and tell them you are throwing some complex and vital questions at them this Raksha Bandhan. Tell them to prepare to answer all of them if they wish to pass and gain your respect. You can also ask them to prepare such a thing for you and have a war over quiz. The questions can be related to your personal life, childhood, parents, and each other.
If you want, you can deliver a gift to the winner on their doorstep from rakhi bazaar's gifting range. Our online rakhi store is loaded with various gifts for multiple purposes. A quiz over a video call on Raksha Bandhan with your sibling can make your day and let your sibling feel like he is still celebrating the festival with you in flesh and blood.
6. Make a video of all the hit-list moments:
Surprise your sibling by showing them a self-made video exclusively for them. Include your childhood, their first moments, their parents, their friends, and their journey abroad, and show them how much you hate not making any such memories with them anymore. A heartfelt video is a compilation of multiple pictures and videos with songs that define your relationship the best. Send it to them in their message or post it on social media to see their reaction. This is one of the best gifts, and a way of celebrating your sibling will cherish forever.
7. Play online games together:
If you both can take out time to have a duel over a video game, there will be nothing better and more cheerful than competing with your brother overseas and playing an online video game with him. You both can stay on the call with each other while playing so that it can feel like you are sitting in the same room with them. Talk to them about their childhood days of playing video games after returning from school. Cherish all the moments and make the most of the festival.
There are multiple ways of still feeling your sibling's love, warmth, and presence on Raksha Bandhan, even when you live miles apart. Don't let the distance put a full stop to your yearly festive celebrations. Break all the barriers and decrease the distance between you and your sibling by having a grand virtual celebration on the festival day.