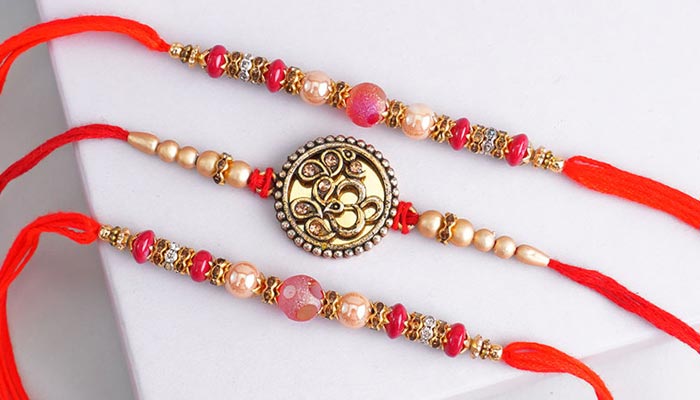 Best rakhi designs for your NRI siblings
When it comes to sending Rakhi abroad, we always want it to be the best. There are multiple reasons why we want the best design and quality of Rakhi for an NRI sibling. The first reason being they are unique to us, and no matter whether they are NRI or Indian, we want to gift them nothing but the best. The second reason is leaving an impressing of our country, its roots, and tradition on the minds of those foreigners who will see our NRI siblings wearing your Rakhi.
Whatever the reason might be, the Rakhi has to be Top-notch, and since we are sending Rakhi to USA or Canada, it should also be thoughtfully hand selected to be the unique one. As you know, there is no place better than Rakhi.in to send Rakhi to USA. Their hassle-free delivery and quality products always impress everyone. Now that you know from where you are sending Rakhi to USA or sending Rakhi to Australia to your sibling, the next thing you must find out is what the best designs are perfect to send abroad to celebrate Raksha Bandhan with your sibling living miles away from you.
Here is a list of the five best rakhi designs to send to your NRI siblings to have a mesmerizing Raksha Bandhan 2023. Remember, all these designs are deliverable worldwide along with rakhi gifts. So, you must not worry about anything and send Rakhi to UK or send Rakhi to USA with a free mind.
5 best rakhi designs to send to your NRI siblings and leave your mark:
1. Silver Rakhi :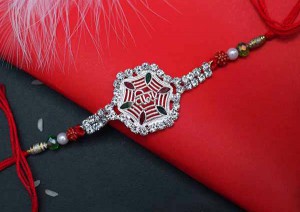 The shine of silver is soothing to the eye. Since silver is a cool element, the shining silver looks relaxing, like ice. Silver also has the properties of keeping the mind calm and relaxed.
The best part is Rakhi.in not only has silver rakhi in its collection, but our designs are unmatched and a great combination of traditionalism with modernity. You can choose a silver rakhi for your NRI brother and send Rakhi to UAE with a love note of siblinghood. The exemplary design of silver comes in many ranges, and this is our best-selling rakhi, so you must hurry and find your ideal Rakhi before the stocks run out.
2. Pearl rakhi :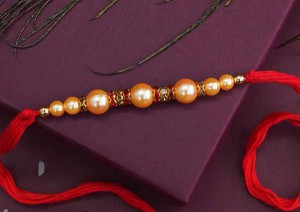 Elegance never goes out of style, and when we talk about elegance, it is a must to think about pearls with that name. Pearls are the epitome of grace, and since elegance is forever, an elegant pearl rakhi is forever too. You can send pearl rakhi worldwide to your brother. No matter where he lives, our pearl rakhi designs are so exquisite that he will immediately fall in love with your handpicked pearl rakhi and wear it for as long as it stays on his hand.
Whether you are planning to send Rakhi to Dubai or send Rakhi to Singapore, where your brother lives, you must check out pearl rakhi designs before finalizing anything. This is because our pearl rakhi designs have the beauty to mesmerize you and change your decision in case you have selected a rakhi already.
3. Rudraksha rakhi :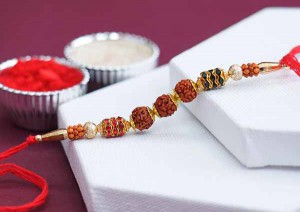 Who doesn't want a rakhi that has Shivji's blessings on it. Rudraksha stone, known as the tears of Lord Shiva, is a bead that is precious to him and is associated with his divine blessings. And since there's hardly any person who doesn't admire and adore Shivji, it is for sure that your brother will love your idea of sending an auspicious rudraksha rakhi to USA on Raksha Bandhan. While he might get a rudraksha in his native country, too, it is challenging to find the Indian touch in it, along with your sister's love and blessings.
Keeping the love and divine blessings aside, our rudraksha rakhis also have breath-taking designs. The option of the rudraksha bracelet allows its wearer to wear the Rakhi regularly and keep his sister's token of love along with lord Shiva's blessing with him forever. Isn't that amazing? So, send Rakhi to New Zealand to your brother and let him have all the blessings he needs this Raksha Bandhan.
4. Family rakhi :
In many families, there are traditions where you also have to tie Rakhi to your sister-in-law and nephew. And if your family follows the same ritual, Rakhi.in is the best place for you. Because even if your sister-in-law and your nephew live abroad with your brother, we deliver kids Rakhi and Lumba rakhi worldwide to help everyone celebrate a fulfilling Raksha Bandhan.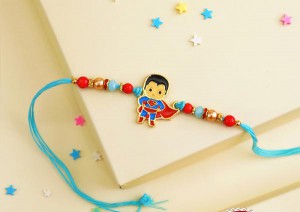 our kids' rakhi collection is made with keeping in mind the sensitive skin of kids and their selectiveness about the designs. The rakhis are safe for kids to wear and can be worn for as long as they want. On the other hand, we have many designs of kids Rakhi, including minion rakhi, superman rakhi, Chota Bheem Rakhi, angry bird rakhi, and many more. You can select any kid's Rakhi for a nephew or younger brother and send Rakhi to Canada or anywhere else in the world via Rakhi.in.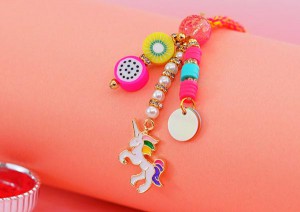 A Lumba rakhi collection that comes with matching Rakhi for brother. It sounds impressive, isn't it? Well, we also have more amazing designs of Lumba rakhis that can be worn on any occasion as their beauty is a sight to behold and looks the best with traditional Indian attire. Your bhabhi living abroad will be overjoyed to get such exclusive Lumba rakhi in a foreign land; hence you must Send Rakhi to Australia or UK and show your bhabhi how much you care for her and your rituals meant to be celebrated together.
The world of Rakhi.in is filled with so many different types of rakhis that are ready to be delivered worldwide. You just let us know your choice and give us the details, and we will deliver your Rakhi with utmost care to your brother's doorstep on time. So, hurry and start looking for the best designs of Rakhi at Rakhi.in now!