Why do people tie Rakhi to lord Krishna on Raksha Bandhan?
You must have seen young girls tying Rakhi to Lord Krishna on Raksha Bandhan. People usually take sweets and fruits to temples along with a Rakhi and celebrate Raksha Bandhan with Lord Krishna and other deities. But have you ever thought about why girls tie Rakhi to Krishan Ji? Let us explain in detail why girls celebrate Raksha Bandhan with Lord Krishna and other details related to it.
Lord Krishna and Raksha Bandhan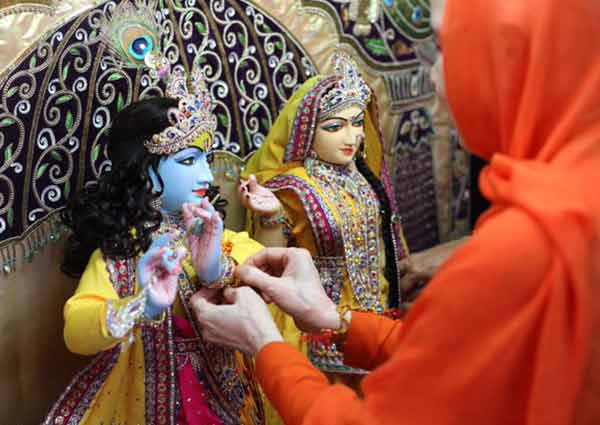 Every kid knows the story of Lord Krishan Ji and Lady Draupadi, the queen of 5 Pandava brothers. When Krishan ji killed Shishupal, his evil cousin, and gave him the result of his ill Karma, his finger started bleeding. The incident occurred in a public meeting where all the clan's prominent people were present, including Draupadi.
When Draupadi saw Lord Krishna's bleeding finger after killing Shishupal, she quickly ran towards him, tore a piece of cloth from her saree, and tied it to Lord Krishna's bleeding finger to provide him relief. Her actions touched Lord Krishna so much, and he promised always to protect her in every situation.
Afterward, when Kauravas harassed Draupadi in a gambling game, and her sanctity was at stake, Lord Krishna saved Draupadi from public humiliation. He protected her virtue from being snatched away in a hall full of men.
Since then, Raksha Bandhan and its promise of protection have held a lot of importance for people. This makes the ritual of Rakhi tying and fulfilling the promise of protection very important for Raksha Bandhan celebrators.
Why do girls celebrate Raksha Bandhan with Lord Krishna?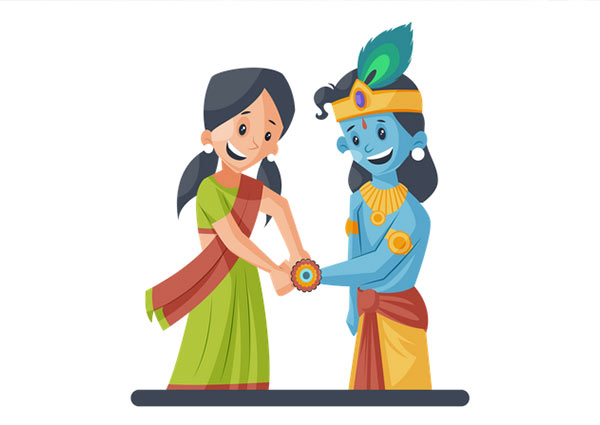 Coming back to our main quest of knowing why girls tie Rakhi to Krishan Ji. This question has multiple answers, and every answer holds equal importance. Why do girls tie Rakhi to Krishan Ji?
Firstly, the girls tie Rakhi to Krishan Ji because he fulfilled the duty of being a foster brother to Draupadi. She was not his real sister, yet he didn't let anyone do wrong to her. Similarly, girls pray to Lord Krishna for their protection and tie him a Rakhi to always be protected by the supreme Lord. They believe Krishan Ji will always save and protect them as a true brother, so they tie Rakhi to him every Raksha Bandhan.
Secondly, it is also said that girls who do not have a brother believe that Krishan ji is their brother, so they celebrate Raksha Bandhan with Lord Krishna. They tie him Rakhi so that he can bless those girls with a brother and help them celebrate a fulfilling festival. If they get a brother as a blessing from Krishan Ji, they continue to celebrate the festival with the Lord to thank him for his kindness.
Last but not least, Indian people are very religious. They consider their deities as a part of their family. They always include them in every celebration and perform the rituals with the Lord they worship the most. Hence, Raksha Bandhan rituals are performed with lord Krishna and also with Lord Ganesh as he is also one of the most loved deities, and many girls consider the 'vighan harta' as their brother.
How to celebrate Raksha Bandhan with Lord Krishna?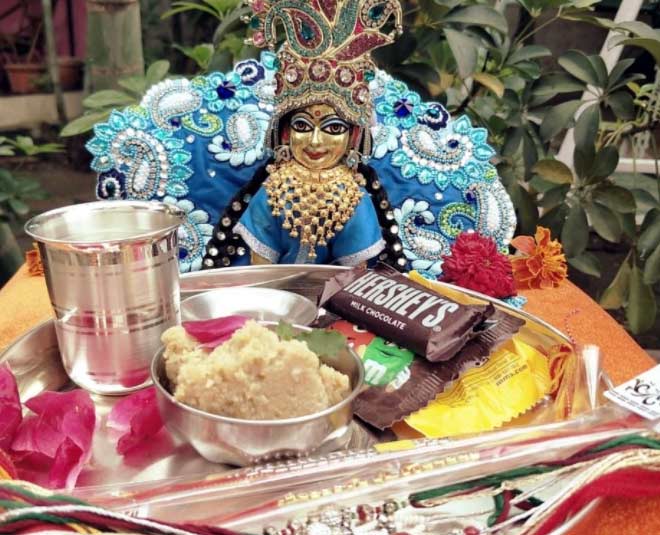 If you haven't yet celebrated the festival with Lord Krishna and wish to do so this Raksha Bandhan, then you must know how to celebrate Raksha Bandhan with lord Krishna. Below is all that you need to know about this unique celebration.
Step 1:
Firstly, you need all the essentials to prepare for the celebration. This includes a Mor Pankh Rakhi, although you can tie him any rakhi, but since Mor Pankhs are very dear to him, and the rakhi design is easily available, go for a Mor Pankh rakhi for Lord Krishna.
The other essentials include Puja thali, sweets, fresh flower petals, an earthen pot, fresh fruits, chawal and roli. Make sure you have all these items together before you leave to celebrate Raksha Bandhan with the divine.
Step 2:
Visit a nearby temple on Raksha Bandhan day to perform the Rakhi tying ritual to the deity. Visit the temple during the auspicious time of the Raksha Bandhan celebration so that your ritual with Lord Krishna can be even more auspicious.
After reaching the temple, if it is allowed for the worshipers to touch the Lord's sculpture, then apply a tilak on Krishan ji's forehead and then tie him the Rakhi. Then perform the arti ritual by rotating the puja thali in a clockwise direction near his face. Sprinkle flower petals on him, and if you have bought the garland, put it around his neck. Then offer him sweets and fruits and conclude the ceremony on a sweet note.
If the temple doesn't allow worshipers to touch the Lord's sculptures directly, then take the help of the temple's priest and do all the steps ritualistically with him. If you worship Lord Ganesh, follow the same rituals with him.
If you cannot go to the temple on Raksha Bandhan for any reason or you do not have any temple nearby, you can perform this ritual at your home as well. Collect all the essentials and follow all the steps mentioned above. It will have the same impact as celebrating Raksha Bandhan with Krishan Ji in a temple.
Step 3:
When we perform any ritual, we must never consume the entire Prasad alone. It is said that one must distribute as much Prasad as possible to get the almighty's blessings. This is the last step of the ritual, where you must share the Prasad or sweets among the needy. It is believed that doing so impresses God, and he blesses the person by granting their wish. So, if you want your wish to be granted and the festival fulfilled, remember this last step.
Now that you know why girls tie Rakhi to Krishan Ji, this year, before you buy a designer rakhi for your brother or send Rakhi to Canada, the USA, or anywhere across the globe, make sure you are prepared to celebrate it with the Almighty. You can order Mor Pankh and various types of Rakhis from Rakhi.in along with all the other festive essentials from the website.
Frequently Asked Questions (FAQs)
Q. Can I celebrate Raksha Bandhan with Krishan Ji?
Yes, you can celebrate Raksha Bandhan with Lord Krishna. Read the details below to learn how to celebrate the auspicious festival with the supreme Lord.
Q. Which Rakhi should I tie to Krishan Ji on Raksha Bandhan?
You must tie a Mor Pankh Rakhi to Kirshan Ji on Raksha Bandhan. Mor Pankh is very dear to Lord Krishna, and he likes it when his followers take care of small details about him while celebrating an auspicious festival with their deity.
Q. Can I tie Rakhi to any other God except Krishan Ji?
You can tie Rakhi to Lord Ganesh and Lord Hanuman on Raksha Bandhan. These two are considered the best deities to celebrate Raksha Bandhan with. One has to follow the same procedure while celebrating the festival with these Gods. Just a few things have to be kept in mind, like the sweets and fruits you are offering them. It will be best if they are of the respective deity's liking.
Q. Which traditional sweet should I offer Krishan Ji on the Raksha Bandhan celebration?
It is best to offer Maakhan Misri to Lord Krishna on any occasion. Homemade unsalted butter with rock sugar is the favorite thing of Krishan Ji. Apart from this, you can also offer him yellow-colored sweets like moti choor laddoo.
Q. Is it necessary to celebrate Raksha Bandhan with your deity?
Performing the Rakhi tying ritual with your deity is not compulsory, but one must always visit a temple on the auspicious festival with sweets. It is a good practice first to wish the gods on any festival and then celebrate it with your family as it brings positivity, blessings, and multiplies happiness.
Why do girls celebrate Raksha Bandhan with Lord Krishna?
Why do girls tie Rakhi to Krishan Ji?