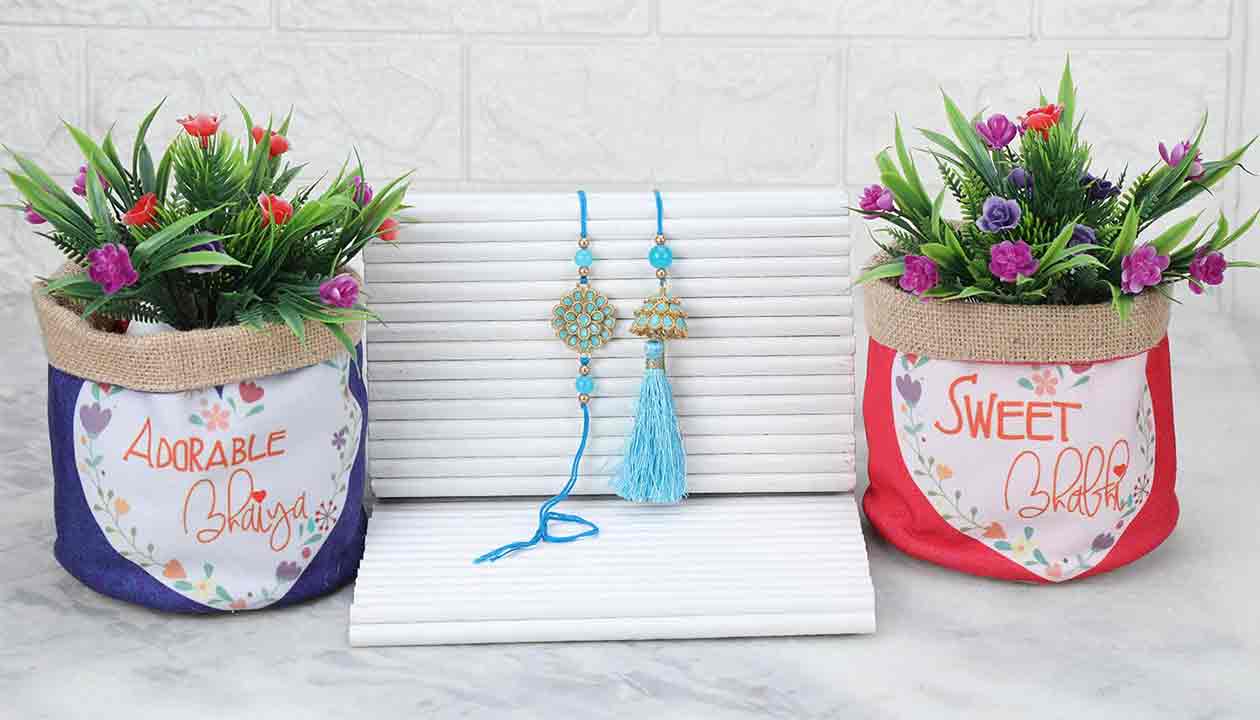 7 Best plant pots to gift your sibling on Raksha Bandhan
Raksha Bandhan is a few days away, and people are busy shopping and other preparations. Markets are decked up with new items, the latest rakhi designs, gift hampers, decorating material, and whatnot, and people have started shopping for the festival already.
If you are eager to buy something for your plant-loving sibling but are yet to decide which gift they will absolutely love on Raksha Bandhan, check out the details below. We have mentioned some of the greatest ideas and unique ways in which you can gift your sibling their favorite plant, and they will love you for your thoughtfulness.
To surprise your sibling with the simplest thing they love in the most significant ways, know how to creatively gift a plant to your sibling on Raksha Bandhan and leave a mark on their hearts forever.
7 best plant pots for gifting this Raksha Bandhan
Here are the 7 best plant pots for gifting, which can make a simple plant look magnificent. Gift them to your sibling this Raksha Bandhan and celebrate the festival gleefully.
Plant with transparent potter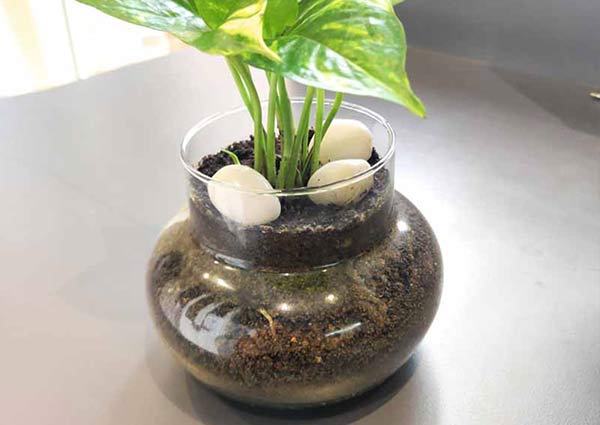 People have increased their home decor aesthetics quotient to the next level and have started admiring the unusual. Talking about the best pots for plants, transparent pots have taken the front seat to be the best choice for multiple people.
Transparent pots that look like fish bowls but actually have mud and plant in it have become an unusual decor idea for many. The best part is such plant pots can be decorated with colorful pebbles and made to look the best.
The combination of mud, colorful pebbles, and your sibling's favorite indoor plant, all of it in a transparent plant pot, will be one of the best gifts you can give on Raksha Bandhan.
Plant with customized potter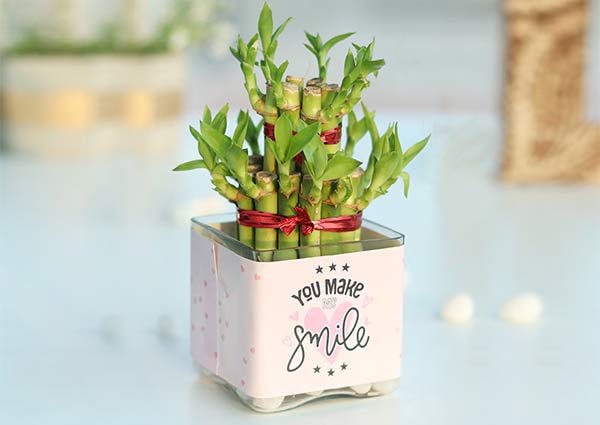 This is a new addition to the list of trending pots for plants. Plants with customized pots are hyped during festivals, especially Raksha Bandhan. One can add their favorite quote, picture, or a chic phrase your sibling will love.
These ideas usually look the best on ceramic pots as personalization on them comes out more beautifully than on any other pot. You can go with some golden personalization on white pots or silver customization on black ceramic pots. Whatever you think will impress your sibling and also complement their decor choices.
Plants with hanging potters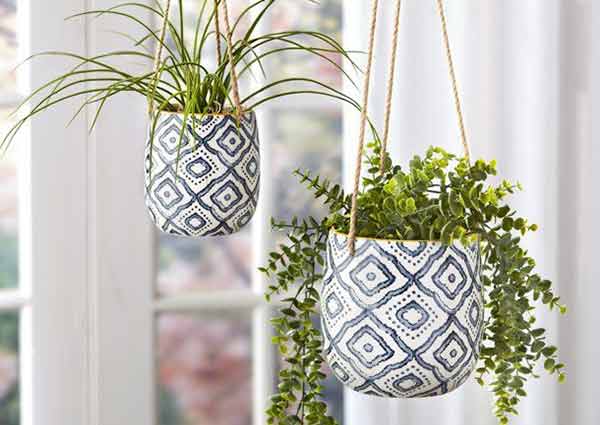 Nowadays, people have started adding trailing plants or climbers that hang down from hanging pots into their bedrooms, kitchen, and other areas at home. While this has become a new trend for these areas, trailing plants with hanging pots have always been a significant addition to balconies and open areas of homes.
Considering your sibling's choices for pants, you can gift them a trailing plant or a climber with hanging pots. They can put these pots on their windows, near their study area, around their dressing room, or any other prominent place at home that needs some natural upliftment.
Do not worry about asking them to add these inside their house, as we live in times when plants have taken up the 1st spot in home decoration. They are getting greatly involved in home decoration for their beautiful look and amazing health benefits. So, they will surely not hesitate to put the hanging pots with trailing or any other plants of their choice inside their home.
Plants with metal potters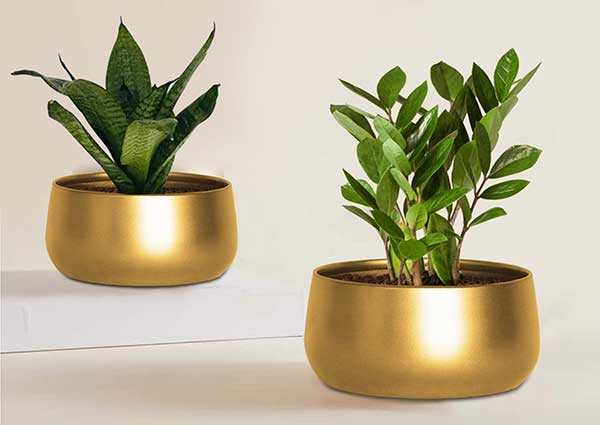 If your sibling likes abstract things, unique items, and can only accept posh gifts, then there's nothing more posh than a metal potter for them. Metal potters come in bright golden colors, and since the golden decor is trending nowadays, metal pots have become the favorite of interior decorators and people with similar interests.
Adding unique plants with pretty colors in a metal pot will make it look more gifting-worthy. Since your plant pot will be made of metal, it will not easily break or get worn off. Just make sure to add a sapling as magnificent as the golden potter.
Plants with concrete potters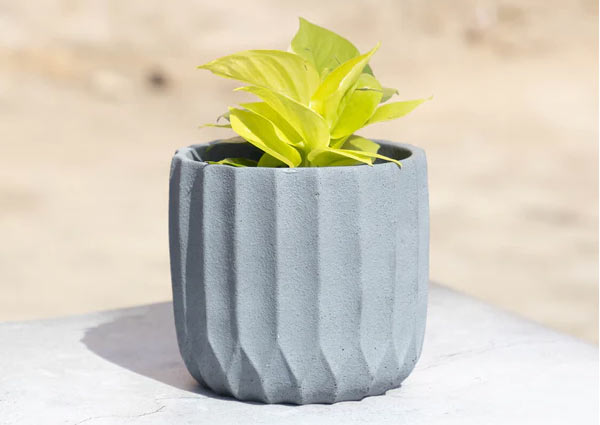 As mentioned above, things that used to look boring and unattractive earlier have now become aesthetics that everyone admires. One such example is concrete potters. Back then, people considered concrete potters incomplete without paint on them. But now people especially look for them.
One of the reasons why people like concrete potters is because they come in multiple different shapes and sizes, which is usually not possible with pots made of other materials as they are usually not mendable. Concrete pots also come in square shapes, which is by far the chicest design of plant pots.
Putting these unusual shapes of plant pots in various locations at home increases the home decor game and makes your house more presentable. Also, it is optional to have unpainted concrete potters for your home. You can buy colored potters as well. It is just that unpainted and natural concrete potters look more authentic, and their grey color looks fabulous and perfect for home decor. This makes them one of the ideal gifts for Raksha Bandhan.
Plants with fiberglass potters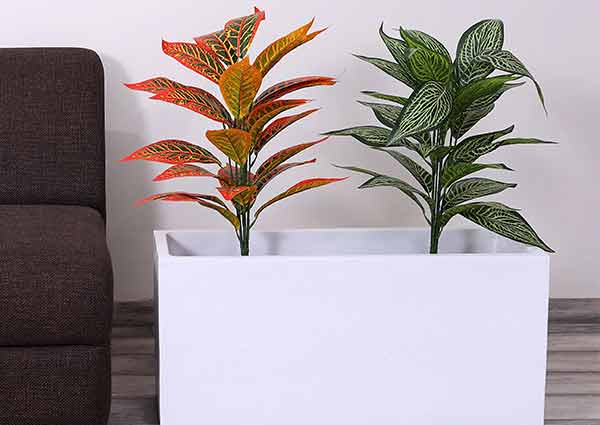 Fibreglass, or glass-fiber-reinforced plastic (GFRP), is a composite material made up of fine glass fibers and a polymer resin matrix. This material is used in multiple areas, and plant potters are one of them. People choose fiberglass potters because the material is known for its strength, durability, and versatility.
These are very budget-friendly plant pots that are best for gifting because they are colorful and vibrant and look extremely classy. They also come in black color, so if you want to gift a black colored fiberglass planter with a beautiful green plant in it to your sibling, they will surely find it very thoughtful and thank you for being so unique with your gift.
Plants with cup-shaped potters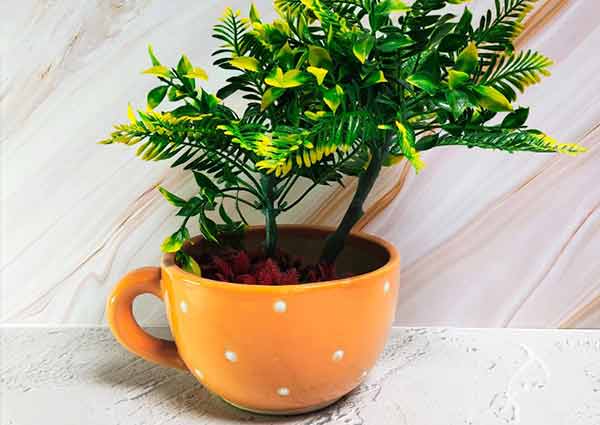 Last but not least, plants with beautiful cup-shaped potters. This one is a great choice because you can find them offline, online, and can even make a DIY cup-shaped plant potter. The DIY can be done easily if you want to give a more personal touch to the gift for your sibling.
Buy a new cup of significantly deeper depth and an adequate handle to hold the mug. Make sure the mug you choose has a color and design that your sibling will love. Before adding plants to it, you can also get it customized by adding some quotes on it.
Once all of this is done, punch a hole in the bottom of the mug. Doing this is tricky but possible, so just be careful and choose the right equipment to do the job. When the hole has been carved out, add your sibling's favorite plant to it. Finish the DIY by layering some beautiful pebbles on top of it.
To put a cherry on the cupcake, write a small note on a piece of paper, punch it at the end, and tie it to the cup's handle with a ribbon. Your sibling will fall in love with your gift head over heels.
These potters can be the best options for Rakhi with plants celebration with a brother or giving them as a return gift to sisters. Quickly make your choice and decide which planter your sibling will like the most to receive as a gift from your side on the festival day. Everything will be sorted after that.
Things to remember:
If you plan to give your sibling a plant with a remarkable potter, here are a few things you need to remember before planning anything.
It's ok if you don't know your sibling's favorite plant. You should not drop the idea of gifting them with plants with plant potters.

If you want your gift to be more impactful, you can give your sibling some gardening equipment or gadgets along with the plant and potter.

Consider the area where they can keep the plant. It will help you determine the size of the potter you should buy for gifting.

It will be very thoughtful of you to consider allergies if your sibling has any. Then gift them a plant that either helps them reduce their allergy or at least doesn't trigger it.

It will be great to gift seasonal plants, but it will be even better to gift plants that stay good for all seasons. This way, your sibling won't have to take care of the plant all the time, and it won't dry up to make the potter look ugly when the season changes.
Conclusion:
If your sibling is a plant lover, he will surely admire your choice of selecting unique plant pots for gifting purposes on Raksha Bandhan. The gift will contain two amazing things, one is a new sapling, and the other is your choicest plant pot according to your sibling's liking.
All the best pots for plants mentioned above are easily available online and offline and are very practical for use. You only have to decide the purpose behind gifting plant pots on Raksha Bandhan to make your gift more suitable for your sibling.
If you are gifting it for home decor or as a showpiece, go for a metal potter, transparent, cup-shaped, or customized potter. If you are gifting the best pots for plants for your sibling's love for gardening, go for a more rough and tough potter like concrete potters, hanging, or fiberglass potter. It will make your gift more suitable and significant.
For more details on Rakhi gifts, Raksha Bandhan shubh muhurat, or to order Raksha Bandhan gift hampers with unique Rakhi designs, stay tuned to Rakhi.in.
Best pots for plants
Plant pots for gifting