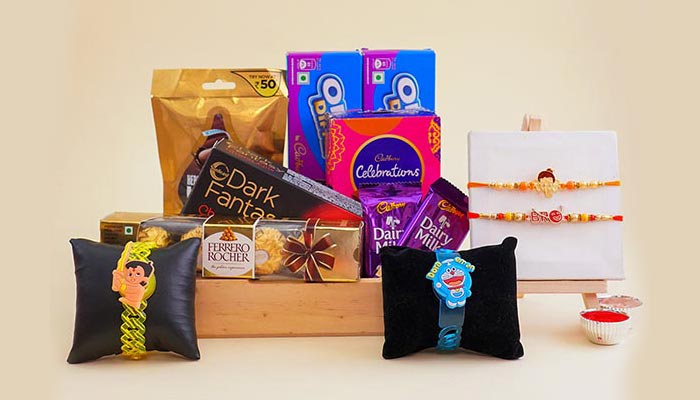 10 Best Rakhi Gift Ideas for Kids – Raksha Bandhan 2023!
One of the unique festivals in India that honors the sweet relationship of a brother and sister is Raksha Bandhan. The bond between a brother and a sister can never be broken as no matter how much they fight, they are always there for each other in times of need. Deep down, they have so much love and admiration for each other. This festival is celebrated by tying a rakhi to the brother's wrist by the sister. Gifting has become a part of this festival's celebrations, as, through the gesture of gifting, brothers and sisters express their love to each other. If you also have a little sibling, you must be looking for the best rakhi gift for them. If you are confused about what to gift to your little brother and sister, we have compiled a list of the best rakhi gifts for kids.
Rakhi Gifts for Brothers
Raksha Bandhan is your opportunity to convey your love and affection to your adorable little brother. So, given below are some rakhi gift ideas for brothers to amaze them on this special occasion.
When you want to impress your sweet little brother with a thoughtful gift on Raksha Bandhan, you can go for gadgets without having any second thoughts. Boys are crazy about gadgets and will love to receive a gadget as a gift. You can go for many options, such as Bluetooth headphones, remote-controlled cars, fidget spinners, Bluetooth speakers, trucks, and more. Your sweet little bother will surely adore your gift very much.

Here is another one of the interesting kids rakhi gift ideas for your little brother. Does he love to wear accessories? If so, then on Raksha Bandhan, why not surprise him with a dapper pair of sunglasses, a stylish wallet, or a cap? He will look so fancy with your rakhi gift and also cherish it always. You can also make a rakhi gift hamper for your brother and include these accessories for him, and add rakhi with sweets or chocolates to complete the rakhi gift.

These days kids spend a lot of their time studying online and playing video games on a screen. Gift your brother a board game, which is super fun and also lets your brother take some time off the screen. There are several exciting board games for your brother, such as Sequence, Scrabble, Snake and Ladders, Ludo, Business, Chess, or other interesting games which will be fun for him. He can play these games with his friends and family members.

A personalized photo frame, mug, or cushion will never go out of style and is always loved by everyone. If you want to win your brother's heart on Raksha Bandhan, do it by gifting a personalized gift to him. Customize a cushion, mug, or wooden plaque with his picture and pair it with a message from you expressing how much he means to you. Your little brother will be in love with this rakhi gift.

Another exciting rakhi gift for kid brothers would be a backpack that can also be very useful if your brother goes to school. There are so many options for backpacks in the market, which come in several designs and even cartoon or superhero themes that your brother will love. Gift your brother a stylish and useful bag on Raksha Bandhan which he will surely flaunt to his classmates.
Rakhi Gifts for Sisters
Looking for special rakhi gifts for kid sisters? Your sweet little sister deserves something special on Raksha Bandhan, which will not only impress her but also convey your love and care for her. But, if you are not sure what to gift, here we have a list of the best kids rakhi gift ideas for sisters. Have a look!
Little sisters are the lifelines of their brothers and also the entire family. If you wish to make your adorable little sister truly very happy on Raksha Bandhan, then gift a sweet and fashionable dress with frills in her favorite color. Your cute little sister will look stunning in the dress with frills and ruffles and always treasure it. This is one of the best rakhi return gifts idea.

Girls love to play with dolls and always have a lot of them, yet these are never enough. If your little sister also adores playing with dolls, why not add more to her doll collection by gifting a beautiful doll house to her? You can add doll accessories like new dresses and shoes and give this to your sister as a sweet Raksha Bandhan surprise. Your little sister will love you even more for this rakhi gift.

Little girls love to carry around a small bag everywhere they go. If your munchkin sister is one of them, then gift a new cute bag to her on Raksha Bandhan and make her day even more special. Remember to pick a handbag in her favorite color, which will add more charm to the gift. Some bags can be personalized with names or initials to make them more unique. You can also gift a Unicorn or Barbie themed backpack to her.

Little girls love to play with soft toys and sometimes also take these with them whenever they go out. Their rooms are adorned with soft plushies in every corner of the room. Add another soft toy to your sweet little sister's toys collection with a soft toy as cute as her. You can buy a panda soft toy, cat soft toy, unicorn toy, and a soft toy in the shape of her favorite cartoon character or animal.

Girls love to wear earrings, bracelets, and other jewelry very much. If your sister does too, then on Raksha Bandhan, present a beautiful pair of earrings, necklace, rings, etc. You can also add hair accessories like headbands, hair clips, rubber bands, or more. Your little sister will be thrilled with this rakhi gift and will always thank you for this.
More Exciting Rakhi Gifts for Kids
Here are more exciting Raksha Bandhan gifts for kids that you can choose to give to your little brother or sister on Raksha Bandhan:
Books and Comics – Bring out the reader in your sweet little brother or sister with a book or a comic. You can gift them a book of fairytales, comics like Dogman, and more.
A Play Tent – Another of the exciting kids rakhi gift ideas is a play tent, which every kid will love very much as adventure is something they cannot resist. The tent can be placed inside their room or out in the garden or balcony where your brother or sister can play inside with their toys.
Watch – Watches are something that never goes out of style. This also makes a wonderful rakhi gift for children. Gift your brother or sister a superhero or cartoon-themed watch and surprise them.
These were the best kids rakhi gift ideas that will make Raksha Bandhan more special for your adorable little brothers and sisters. Your adorable siblings will be thrilled to receive such a special gift from you. So, complement your rakhi with a unique rakhi gift for kids to make the gift more memorable. And, if you are looking for kids rakhi and other rakhi gifts, then Rakhi.in has a plethora of options to choose from. Through us, you can send rakhi anywhere in India. If your little brothers live overseas, you can also send rakhi to the USA, Canada, the UAE, and other locations easily.