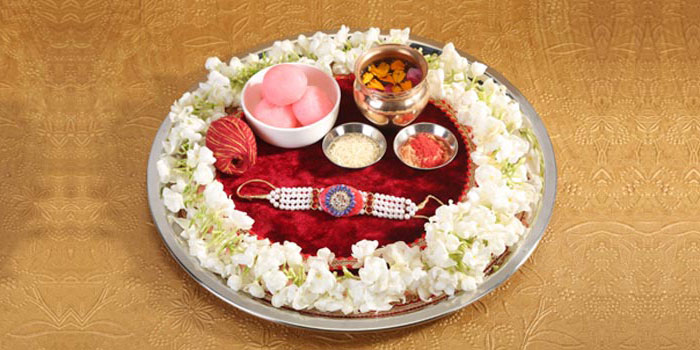 Ingredients and Significance Of Raksha Bandhan Thali!!!
Raksha Bandhan is a festival that depicts an unconditional love bond between the siblings. Rakhi signifies something extraordinary, i.e., it is a celebration of love and brotherhood. In India, the festival Rakhi ceremony takes place in the month of August, on full moon day. Traditionally, on the Rakhi day, a holy thread of love called Rakhi is tied to the brother's hand. And in return, the brother promises to save their sister from all odds. However, the celebration of RakshaBandhan goes way beyond mere tying of the Rakhi to their brothers. Over the years, the significance of this festival has evolved most pleasantly, and it is not limited to brothers and sisters. Anyone who feels a sense of responsibility can tie their near and dear ones. Tying this beautiful and holy thread is a fantastic way to promote cultural harmony and unbreakable bond. In fact, RakshaBandhan is a most awaited festival among the siblings; the festival brings them together once a year, irrespective of anything.
It does not matter how busy anyone of you were the entire year; this one festival binds you with unconditional love and affection. The festival is a huge and complex one, and if you dive deep into the history to understand how this all began, this is what this blog aspires to do.
When is Rakhi in 2023?
Do you know when Raksha Bandhan is this year? If not, then this year, on 30 August 2023, Raksha Bandhan will be celebrated. Here are some essential timings that we should follow:
| | |
| --- | --- |
| Raksha Bandhan, 2023 | Date and Timings |
| Subh Muhurat for the Rakhi tying ritual | after 09:01 PM, Wednesday, 30th August |
| Total time for Rakhi ceremony | 11hrs 16 minutes |
| Aparahan time during Rakhi | 01:37 PM to 04:07 PM |
| Aparahan duration | 2 hrs 30 minutes |
| Begining of Purnima tithi | 10:58 AM on Aug 30, 2023 |
| Ending of Purnima tithi | 07:05 AM on Aug 31, 2023 |
Ancient Hindu mythological story related to Raksha Bandhan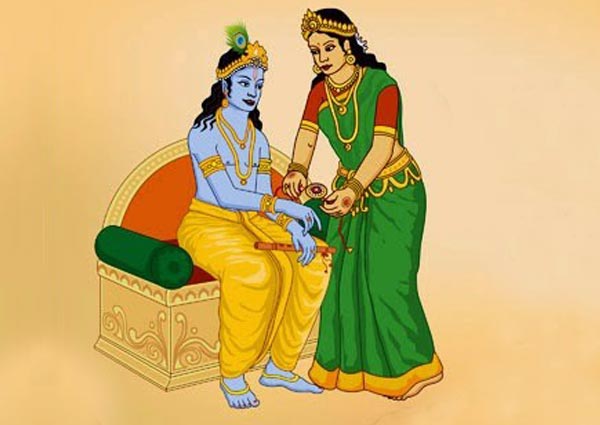 Rakhi is one of India's most prominent and loved festivals, expresses the love bond between siblings. And like most religious occasions, Raksha Bandhan has its origins in various Hindu mythological stories or Katha. Lord Vishnu has made a vow to the demon King Bali to reside by his side after winning the three worlds per the holy Vishnu Purana. But his wife, Goddess Lakshmi, wanted to return to Vaikunth Dham, so she tied a Rakhi around King Bali and made him her brother. When he obliged to give her a gift for this gesture, she asked him to free Lord Vishu from the vow, so king Bali released Lord Vishnu and kept his promise.
Prepare a Wholesome Rakhi pooja Thali
Rakhsha Bandhan's ritual is incomplete without Pooja Thali. The Pooja Thali is decorated with pearls and ornated with the colorful and designer Rakhis and other ingredients to ward off negativity and bad omens. Nowadays, either you can make your own Pooja Ki Thali or shop online Rakhi with Pooja thali; there are plenty of websites that offer beautiful and alluring Thali under an affordable price range. But if you are keen to prepare the Thali on your own, then these are the essential components a Raksha Bandhan thali must have:
Rakhi Puja Thali: The Thali chosen for the decoration should be gold, silver, bronze, copper, brass, or steel. One can also decorate the said Thali with yellow, orange, or red color clothe, and the brighter the cloth, the better your Thali will look. So find some sparkly cloth to make your Thali look beautiful.
Akshata(rice): Akshata is a Sanskrit word that means "Something which is not broken," another name of Lord Shiva. Akshata is uncooked, unbroken rice mixed with turmeric and is considered one of the most important ingredients known to bring prosperity and fertility.
Kumkum and Kesar: Kumkum has a unique role in all Indian holy events; in the Vaishnava, Tilaka is the symbol of the Lotus feet of Param-aatma( Divine God), and the Kumkuma symbolizes the Bhakta( devotee). Kumkum is one of the best remedies, can be used in headaches; it relaxes the muscles and gives instant relief.
Diya or incense stick: Diya is very important and has a special place in Hinduism. It is the significance of purity, good omen, and power. It is said that light means the non-existence of dark(Evil). And Diya was first lightened when Sri Rama visited Ayodhya after 14 years of exile, a symbol of joy and happiness.
Sweets: Sweets are called "Mithai," it is a symbol of happiness and sweetness that we spread among family, friends, and relatives. Firstly the sweets are offered to the Goddess Lakshmi with pure devotion. And later, it is distributed among all the members as Prasad in the form of blessings from the Goddess.
Fruits or Nariyal: The three dots on the Nariyal symbolize the three eyes of Lord Shiva, and thus coconut is termed as auspicious in the Puja ceremony. Also, the devotees pay special tribute to God to get a child by offering Nariyal to Lord Rudra. You can also use bananas and offer them to the Lord to get blessings.
Mauli dhaga: Mauli dhaga, also termed as Kalawa, is a holy Hindu thread tied by the priest on the wrists of all the attendees of the Puja ceremony to get the blessings of God. It is also believed that the wrist vein controls our body, so if you tie Mauli on the wrist, it helps us regulate our blood circulation.
Kalash with water: The Kalasha is believed to have Amrita, the elixir of life. Also, the Kalasha or metal pot represents material things that contain fertility- the earth and the womb, which nourish our life. And as per Hindu tradition Goddess, Lakshmi holds Kalasha in her hand shows wisdom and abundance.
Betel-nut (Paan-supari): Betel nut helps us invoke the blessings of Lord Ganapati and Goddess Lakshmi. It is said that keeping a copper vessel filled with Ganga water, along with the betel nut and some coins, as an offering in a temple, helps get all our wishes fulfilled soon. The holy Nut is encapsulated by the Mauli dhaga and placed on Betel-leaf.
A beautiful Rakhi: Rakhi is not just a thread; the sacred thread shows an unbreakable long-lasting sibling bond. Raksha Bandhan symbolizes an incredible, unmatched bond of love, care, and respect between a sister and a brother. Rakhi thread is considered sacred as it reminds of the promise a brother makes to her lovely sister to protect her till his death.
How to perform the Raksha Bandhan ritual flawlessly?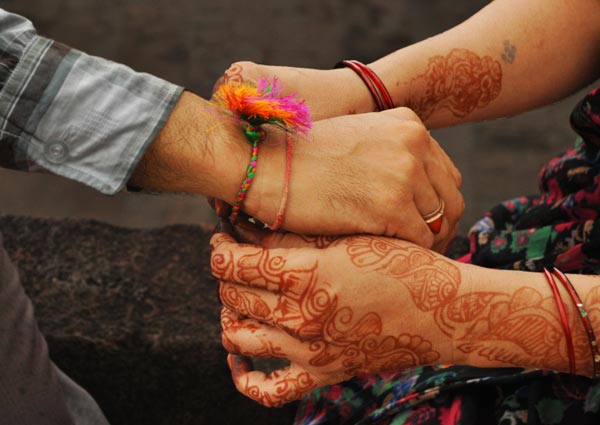 Raksha Bandhan is a famous and the most auspicious festival celebrated with zest and enthusiasm, blooms the evergreen brother-sister relation. Peeping into the lane of memories created with your siblings. Rakhi Poornima piles up a bunch of memorable moments every year. From getting ready in beautiful clothes to buying the perfect rakhi for their brother, sisters do every possible job to make them feel special—some of the ordinary and essential Raksha Bandhan rituals you need to follow.
Brother sitting on a platform: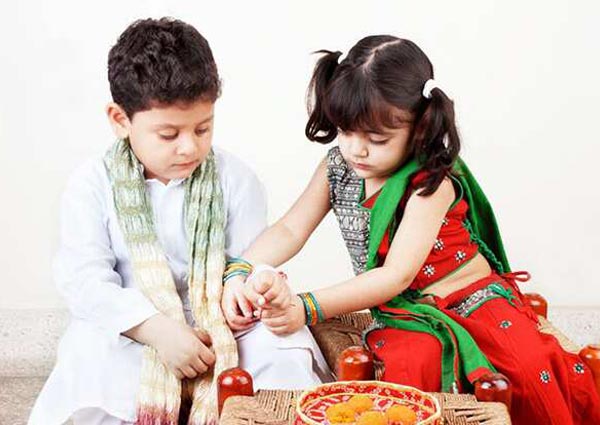 Back in time, brothers and sisters used to sit on a wooden platform to perform the sacred ritual, but now usually they sit on a comfortable sofa facing each other but make sure that brother is facing east or north direction and both siblings have a cloth on their head.
Applying Tilak, Chawal on Forehead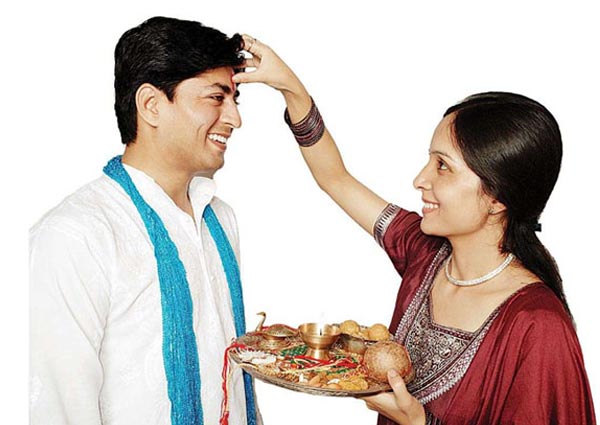 Now, once the Thali is all set, the sister applies Tilak along with some unbroken Akshat on their brother's forehead. Applying the Tilak is considered one of the unique and auspicious rituals in Hindu tradition. It is also said that Tilak between the forehead improves your concentration power as it opens your third eye of consciousness.
Performing Aarti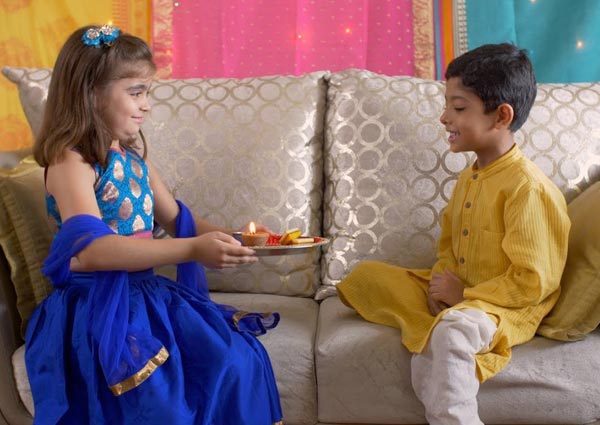 The Pooja Thali has a Diya whose holy flames keep Bro away from all evil powers, dangers and keep them safe. The holy Aarti begins by moving the Thali in the clockwise direction in front of the brother's face about seven times. The Aarti is performed in honor of the brother while prayers are being offered for their long life. And the essence of providing Nariyal(coconut) lies in well-being, joy, and happiness. Nariyal is also called Shrifal, the very fruit of goddess Lakshmi.
Tying Rakhi to the wrist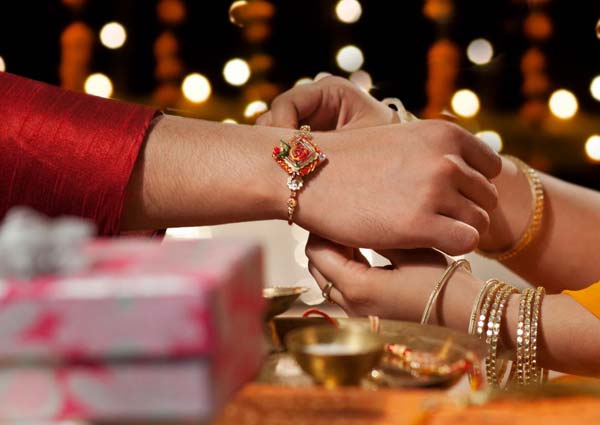 Once rakhi tying is done, the sister performs Holy Aarti. Depending on the culture, some people recite a mantra, "Deen Bandhu Bali Raja, Daan Bandhu Bali Bali." Praying for their brother's success and luck, the sisters, add completeness to this emotional moment. Thousands of tempting and designer rakhis are available, and you can check them from any reliable E-shop and pick the best that suits you and falls under your budget. Here is a list of unique and beautiful rakhis. Celebrate the occasion of rakhi with unique brother rakhis that are brought for you exclusively. You have plenty of options to choose between alluring and tempting rakhi like Mauli Rakhi, Gold Rakhi, rudraksha rakhi, Lumba rakhi, etc.
Feeding Sweets or Chocolates
Once the Aarti and the tilak ceremony get completed, then the rakhi is tied, the brothers are offered sweets to signify the end of the ritual. But firstly, the sweets are offered to God, and as Prasada, a small piece of sweet is fed to the brother, who feeds the sweet to his sister as well. You can either prepare sweets at your home or order your favorite sweets from local stores.
Long-lasting Promise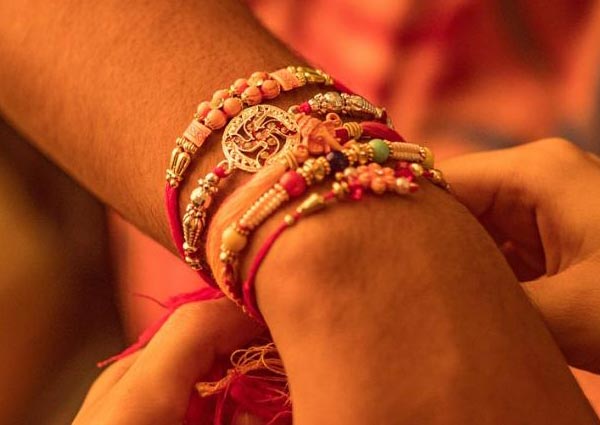 All the ritual celebrated in India comes with a moral attached. Rakhi, too is no different. The main principle of the ritual is the everlasting promise to be by the sibling's side through thick and thin. The brothers pledge to protect their sister against any harm. The sisters promise to do the same no matter what.No theory has ever been made to express the unconditional love between siblings. It is a gift of God, and we should respect the ritual and keep our promise till eternity.
Sharing gifts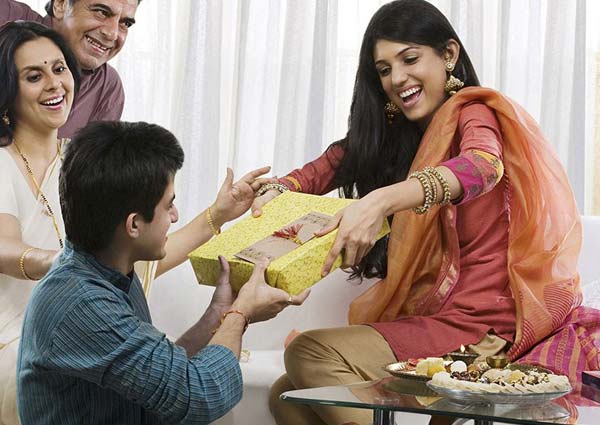 This is the moment at which everyone gets most excited, and as a token of love, care, affection, and respect, the brothers surprise their sisters with a unique return gift. Though the entire festival revolves around good wishes and the bittersweet bond of siblings, planning for the Rakhi gift takes a considerable amount of time. In some households, this planning takes months. But, thanks to the online gifting portals or the various online stores, this step has been made pretty easy and sort for all!! The relationship shared between the brothers, and the sisters are special, unique, and deserves all the celebrations in the world. Thus, prepare yourself up for Raksha Bandhan 2023, let your brother, sister, and loved ones know how special they are to you. Here are some exciting personalized gifts you can go with:
Personalized caricature:  The caricature gifts have become prominent and most loved gifts for every event, and it is also available in a brother and a sister themes. The personalized caricature gifts are cute and creative; just like sibling bonding, your siblings are likely to appreciate this personalized gift.
Personalized Photo-frames: It is an excellent present for siblings; that you can send your Brother to Raksha Bandhan to express your love. Photo frames as a gift will indeed express your feelings towards your brothers in many different manners. The personalized photo frames will contain the whole personal message you intend to send to your brother on rakhi 2023.
Personalized Photo-cakes: Raksha Bandhan draws brothers and sisters together, allowing them to reminisce about their childhood memories. If you want to delight your brothers and make them loved, Raksha Bandhan Photo Cakes are the way to go. So, if you're looking for a designer rakhi with cake, you can order it online via any genuine E-shop.
Personalized Chocolate Box: The delectable chocolates, such as Silk Fruit & Nut, Dairy Milk, Dairy Milk Silk Oreo, etc., are perfect gifting solutions to brighten the mood of your siblings.
Personalized celebration Box: Create personalized Rakhi gift hampers crafted with love and care, consisting of items such as video games, chocolates, mugs, key chains, educational games, clothes, or indoor games, etc.
Final word
Now you have made your mind to do something unique and significant for your sibling on this Raksha Bandhan to make them feel special and loved rakhi.in is here to help you. The online gifting portal has thousands of gifting options for you, and it has a wide range of beautiful and designer rakhis available under an acceptable price range. You can buy the rakhis and send them to any corner of the world with some clicks. It is an ideal gifting portal that offers you express rakhi delivery, standard rakhi delivery on time. So, place the order and give your brother an excellent festive feel!!
designer rakhis
Rakhi Puja Thali