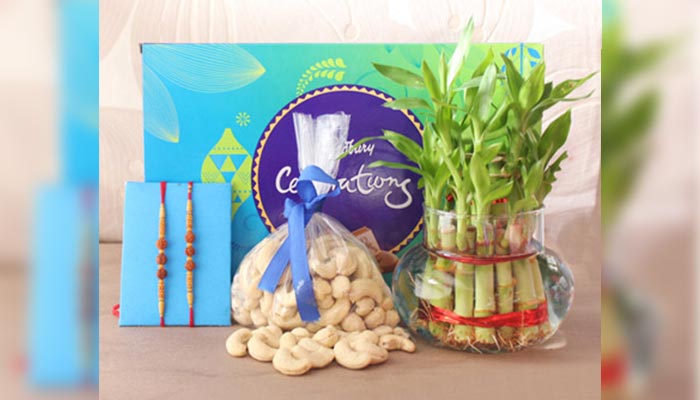 Best rakhi with plant gift hampers for brothers – Rakhi.in
Raksha Bandhan is around the corner, and you still haven't found a gift for your brother? Don't you worry! We are here you help you pick the best gift for brother. Why not go green this year, gifting rakhi with plants to brother? Plants have become one of the most loved gifts in a few years. Plants can not only add beauty to a home but also bring positivity and create a clean atmosphere.
At Rakhi.in, we have come up with a huge range of rakhi with plants online. So, if you are searching for a place to shop for rakhi and plants, you can choose our website. Below are some of the best rakhi with plant combos for brothers available on our online rakhi store:
Rudraksha rakhi with jade plant combo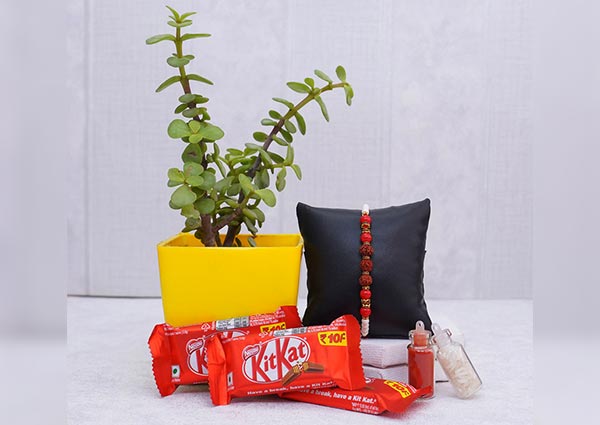 When looking for an eco-friendly rakhi gift for brother, you can send this unique rakhi with plant combo. This special gift hamper includes a potted jade plant, auspicious rudraksha rakhi, and yummy Kitkat chocolates. The highlight of this combo is, the potted plant and the rudraksha rakhi, as it's considered very sacred and will bring positivity to your brother.
About jade plant
Jade plants are easy-to-care-for succulents that can thrive in warm conditions. According to Feng Shui, these plants are considered to bring good luck. Keeping jade plants at home is very beneficial as it can reduce the harmful pollutants present in the air. This type of indoor plant can live for longer life if cared for. Wish for a long life for your brother as you present this plant with rakhi to him.
Evil eye rakhi with snake plant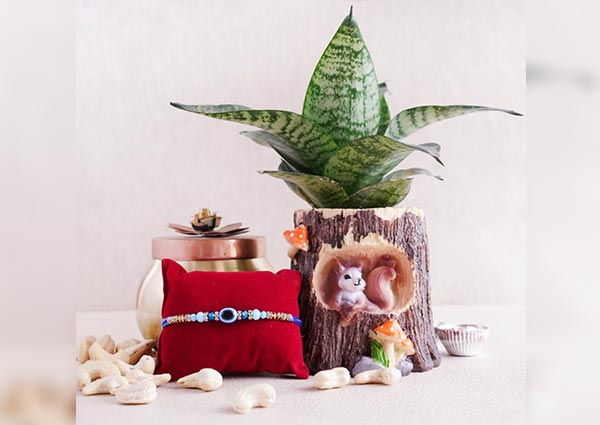 On this Raksha Bandhan, adorn your brother's wrist by tying an evil eye rakhi and save him from negativities. An evil eye rakhi is considered auspicious, as it will protect your brother from negative energies and bring him good luck. This combo also includes a decorative container with yummy cashews and a snake plant in an adorable planter.
About snake plant
The snake plant, also known as mother-in-law's tongue and Saint George's Sword is another common houseplant with many benefits. It's an ideal gift for brother on Raksha Bandhan as, according to Feng Shui, this plant attracts good luck, good energy, and prosperity for your brother. Snake plant can also help in purifying the air and also helps in boosting mental health.
Om rakhi with bamboo plant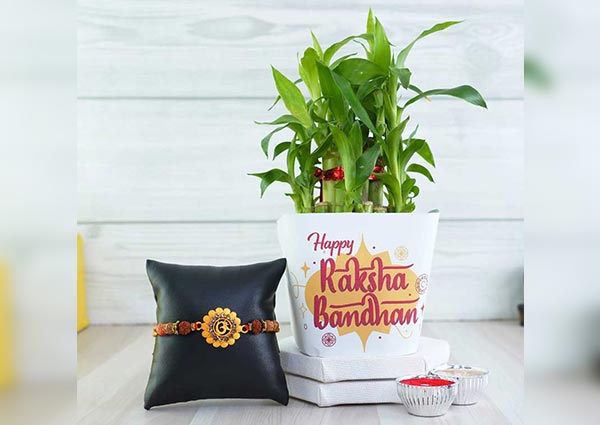 If you want to gift something unique but also auspicious, you can choose this rakhi gift hamper for brother. This gift hamper contains an auspicious Om engraved rakhi that will beautify your brother's wrist and a potted bamboo plant. This is the best option if you are looking for a unique Raksha Bandhan gift for brother under Rs. 500.
About bamboo plant
Lucky bamboo or lucky plant is one of the most loved plants for gifting and an excellent choice for your brother. This plant has benefits, such as removing harmful toxins in the air. It can also bring lots of good luck and positivity and attract wealth to a household. If gifted, the plant can bring good luck to the receiver. The bamboo plant is also very easy to grow and maintain and can be used as decorative at home.
Peace lily with silver rakhi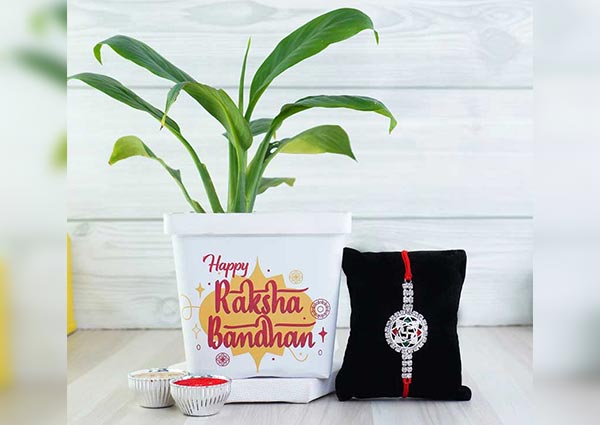 When discussing rakhi with plants online gifts, here is another combo your brother will love. Sometimes finding a gift for your brother that is both unique and also affordable can be confusing. But don't you worry! You can pick this Raksha Bandhan gift hamper containing a beautiful silver rakhi with a swastika sign. The rakhi is paired with a lush green peace lily which is very beneficial for keeping at home, but why? Let's find out!
About peace lily
The peace lily is a wonderful indoor plant that is a great gift choice as it has many benefits. Besides purifying the air from harmful pollutants, such as carbon monoxide, xylene, etc., it also removes acetone vapors present in the air due to varnishes, nail polish removers, rubbing alcohol, etc. Peace lily can also help in promoting sleep. The plant absorbs the airborne mold spores and brings calmness and positive energy.
Spider plant with bhaiya bhabhi rakhi set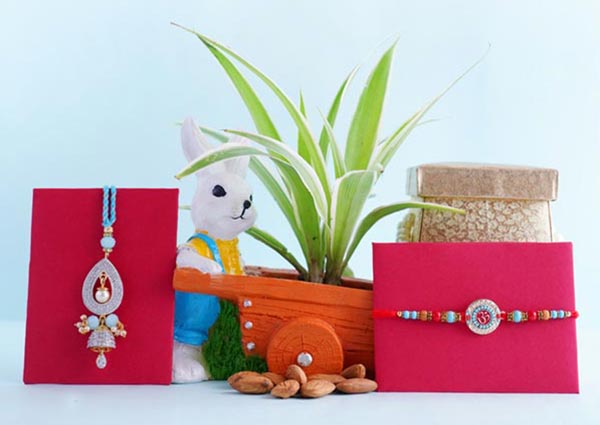 Raksha Bandhan is a festival dedicated to the unbreakable bond shared by brothers and sisters. Sisters celebrate the day by tying a rakhi thread to their brothers' wrists. Over the years, the traditions of celebrating this festival have changed a lot. Sisters now also celebrate the special occasion by tying a rakhi to their sister-in-law. If you are looking for a rakhi with plant gift hamper for your bhaiya bhabhi, this spider plant with bhaiya bhabhi rakhi combo is the best option. Here are the benefits of the spider plant.
About Spider Plant
Surprise your brother and sister-in-law on this Raksha Bandhan by gifting a potted spider plant. Spider plants are also one of the most popular choices for keeping at home. One of the major benefits of keeping this plant at home is that it can improve your breathing by naturally increasing oxygen levels and purifying the air from chemicals. Spider plants also possess therapeutic properties. According to some studies, these plants can reduce stress, anxiety and reduce cortisol levels.
Set of 2 rakhis with money plant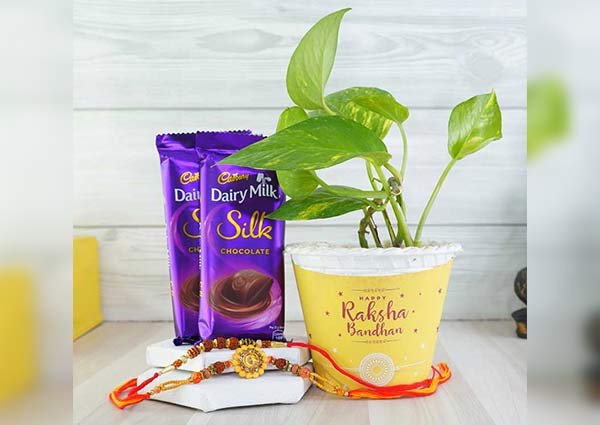 On Raksha Bandhan, sisters look for special gifts for their brothers rather than expensive ones. And that is why gifting rakhi with plant combo to your brothers is the best option. You can choose to gift this combo to brothers. It includes two auspicious rakhis, Om rakhi, and rudraksha rakhi, paired with a potted money plant and chocolates. Read below to know the benefits of money plants.
About Money Plant
Money plant is another great rakhi gifting plant having numerous benefits. According to Feng Shui, money plants, when placed at home, can create a positive environment. Money plants are also considered to bring good luck and wealth. One another unique benefit of this plant is that it works as an anti-radiator by absorbing the harmful radiation emitted by laptops, phones, etc.
These were some unique rakhi with plant gifts combo that you can gift your brother and make his Raksha Bandhan memorable. You can buy any of these rakhi plant gifts at pocket-friendly prices at Rakhi.in. Here you can also shop for other combos, such as rakhi with chocolates, rakhi with dry fruits, and more. Rakhi.in is one of the best online rakhi stores that offer quick rakhi with gifts delivery anywhere in India, to Delhi, Chennai, Kolkata, Bangalore, etc., with free shipping.
rakhi plants
rakhi with plant combo
rakhi with plant gift hamper
rakhi with plant gifts
rakhi with plants online