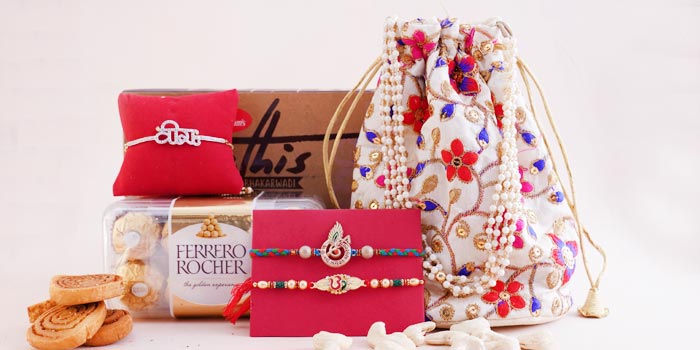 Ultimate Gift Guide for Rakshabandhan 2023: Find Best Rakhi Gift @ Rakhi.in!!
Indian traditional festival of Raksha Bandhan has always been one of the most significant and prominent festivals dedicated to the siblings' unbreakable immortal bond. With this festival, there comes a chance when brothers and sisters cherish memorable moments spent together right from childhood. This makes Rakhi one of the most awaited festivals enhancing the heartwarming relationship between brothers and sisters, between sisters and their sisters-in-law, and ties the whole family with a sacred protective thread. Besides this, Rakhi festival also serves as a perfect occasion to express your sweet gesture, love, affection, respect, and regards towards your dearest siblings who were always there as a support system supporting your back and holding your hand at every time, in every tough decision, and every thick and thin.
This year, on Rakshabandhan 2023, every brother must be looking for something special to make her dearest brother feel special, and every brother must have been thinking about how he can make his sweetest sister smile with his efforts. And thus, finding a perfect gift for Rakshabandhan is considered one of the most daunting and confusing jobs to do. But, there is a basic funda for finding the aptest gift for your loved ones without putting in much effort and with fewer confusion.  It is always advisable to rise above the mundane and always being real while finding the Rakshabandhan gifts for your siblings. When you listen to your heart, you can only find wonderful ways of showcasing the real emotions and feelings embraced in your heart. Here, we have curated an ultimate Rakhi gift guide showing the latest Rakhi gift collection 2023, having trendy, thoughtful, and not conventional gifts for brothers and sisters.
So, if you also have no privilege of being with your brothers/sisters, this gift guide will turn out to be the aptest solution for solving every gift-related problem. Look at the contents we have covered in this share and send Rakhi online along with a nice gift from the list. So, let us begin our handy dandy gift journey:
Table of Content
Raksha Bandhan Gifts for Brother
Rakhi with Sweets
Rakhi with Chocolates
Rakhi with Plants
Rakhi with Cakes
Rakhi with Personalized Gifts
Rakhi with Spiritual Gifts
Rakhi with Dry Fruits
Rakhi with Puja Thali
Rakhi with Flowers
Rakhi with Greeting Cards
Makeup Kit
Jewelry Items
Watches
Perfumes
Soft Toys
Handbags and Clutches
Chocolates
Lucky Plants
Home Décor Items
Personalized Gifts
Bhaiya Bhabhi Rakhi Set with Sweets
A Family Collage
Personalized Gifts
Home Decors/Kitchenware
Cake with Flower Bouquet
Plants with Rakhi Set
Dry Fruit Basket
Weekend Getaway
Let us finally start with the category of Rakshabandhan gifts for brothers:
Raksha Bandhan Gifts for Brother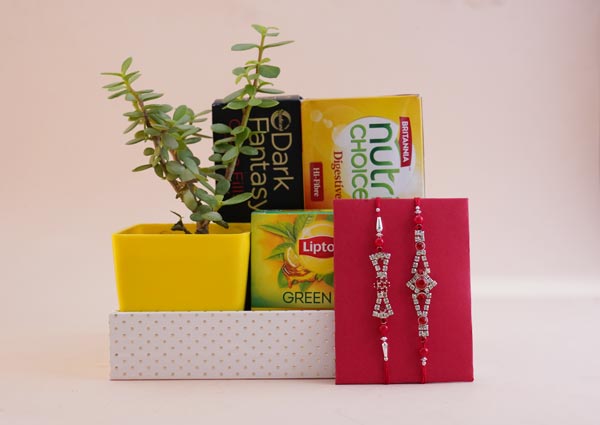 You and your brother have grown up together and have seen so many beautiful moments in different phases of life. Sometimes squabbling over the TV remote and sometimes fighting for the last pizza slice, siblings are undoubtedly real-life Tom and Jerry. And, when Rakshabandhan comes, the magic of this festival blended with the happiness of reuniting with your beloved brother after so many days is no less than a blessing for the sisters. And, hence, every sister out there put in all her efforts and make sure to surprise him with thoughtful yet fantastic Rakhi gifts for brother.
Here, we have listed some of the best-selling gift items you can choose from and make this festival super amazing and special for him. So, let us have a look at the options:
Rakhi with Sweets: For all those sisters having a brother with sweet-tooth, Rakhi with sweets combo is the best way to make the Rakhi festival more delightful and interesting. Soan Papdi, Gulab Jamun, Kaju Burfi, Doda Burfi, Kaju Kalash, Motichoor Ladoo, Mewa Bite, and Dry Fruits Ladoo are some of the famous sweets from Haldiram, perfect for sending with auspicious Rakhi for brother.
Rakhi with Chocolates: Add more sweetness to this Rakhi celebration with yummilicious chocolate and Rakhi combo. You can pick any Rakhi from Silver Rakhi to Rudraksha Rakhi to AD Rakhi, and can pair it up with Cadbury chocolates to make a fantastic gift.
Rakhi with Plants: Monsoon is the best season to doll up your place with attractive green plants. This Rakhi season brings happiness, prosperity, and good health for your brother with Rakhi and plants combo. Money plant, jade plant, spider plant, snake plant, Bonsai plant, and lucky Bamboo plant are some of the bestsellers.
Rakhi with Cakes: A delightful cake will add more sweetness to the Rakshabandhan celebration for sure. Also, if you are blessed to have a sweet little brother, chocolate cake, pineapple cake, truffle cake, cheesecake, PUBG cake, or fruit cake along with a kids foodie Rakhi will be the best gift for sure.
Rakhi with Personalized Gifts: Wish to make your brother feel special with your Rakhi gift? Well, Rakhi with personalized gifts can never fail you as an option. Personalized mugs, pillows, greetings, photo frames, plaque, and caricatures are some of the gifts you can pair your designer Rakhi for brother with.
Rakhi with Spiritual Gifts: Spiritual gifts for Rakshabandhan are one of the best ways for conveying your emotions and heartfelt love to your brother. Lord Ganesha idol, Krishna idol, and laughing Buddha are some of the spiritual gifts you can go with. To pair these gifts, you can choose spiritual Rakhis like OM Rakhi, Rudraksha Rakhi, Mor Phank Rakhi, Khanda Rakhi, and Ganesha Rakhi makes the best choice.
Rakhi with Dry Fruits: For your fitness freak brother, super healthy dry fruits along with a fancy Rakhi make the best gifting option. Almonds, Cashews, Pistachios, and Peanuts packed in designer containers or potlis make the aptest Rakshabandhan gift for sure.
Rakhi with Puja Thali: There could be no better option for your brother in any abroad country other than Rakhi with puja thali. You can very easily get well-decorated thalis having nariyal, roli, chawal, kalash, sweets, and Rakhi to gift your brother a ritualistic Rakhi celebration.
Rakhi with Flowers: Searching for some out-of-the-box Raksha Bandhan gifts ideas? Well, you can never go wrong with a fresh and lovely flower bouquet. Lilies, carnations, sunflowers, orchids, and roses for Rakshabandhan are among the bestsellers.
Rakhi with Greeting Cards: For all the sisters looking for a full-proof way to express their love and respect to their brother, a greeting card is always the solution. Sending Rakhi with greeting cards will make this one-day festival more special and memorable for brothers undoubtedly.
Rakhi Return Gifts for Sister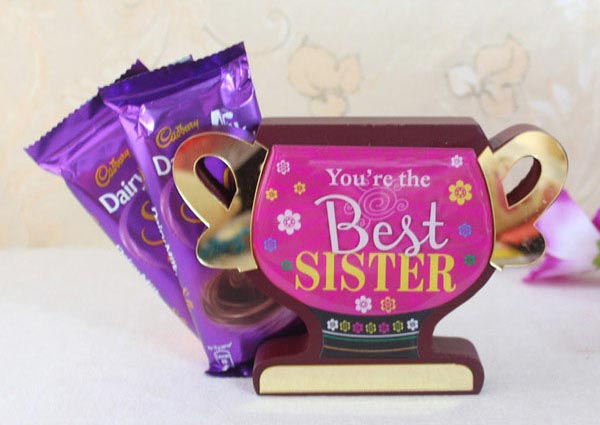 Picking up the aptest Rakhi gift for brother seems relatively easier than the tedious job of finding a thoughtful yet special Rakhi gift for sisters. It is no easy feat to catch. For the younger sister of yours who has put up different temper tantrums on you through all those rebellious years of teen, you need something she can use. While, for the sisters who are miles away from you and this year, you cannot be with her for the festivities, you have to be extra cautious and a little more proactive while selecting a gift for Rakshabandhan. She will like flowers and chocolates, but something she can keep as a forsake of the memories will be more of her type. And, when you concluded that nothing seems good enough to please your elder or married sister, these suggestions will surely do the trick.
Here, we have curated a list having the best Rakhi return gifts for sisters perfect for reflecting your heart feelings, emotions, and respect for her. Do check this list before making a choice:
Makeup Kit: Makeup and ladies go hand in hand. Whenever you are confused about how to impress your loving sister, teenager, or elder, you can never go wrong with a make-up kit. Foundation, concealer, eyes shadow palette, blush, highlighter, and contour are some of the essentials you should include in make-up.
Jewelry Items: For your married sister, you can find a number of jewelry items perfect to glam up her style and make her ready for the Rakshabandhan celebration. Classy neckpieces, AD rings, a pair of designer earrings, gold/silver bracelets, and a set of fancy bangles are from the range of the popular Rakhi gifts for married sisters.
Watches: For your teenage sister, who eagerly waits for your Rakhi gift throughout the year, a classy and elegant watch will undoubtedly make the best choice.
Perfumes: An exclusive perfume hamper having some branded, and good smelling perfumes will surely make your dearest sister feel so special. She will definitely love your choice but make sure to know her favorite brand.
Soft Toys: Are you a super big brother on whom your cute little sister relies for solving every problem of her? If yes, then you are undoubtedly God's favorite person who is blessed with such a sweetheart stress buster. Gift her a teddy bear, and see her smiling all her heart out.
Handbags and Clutches: For your office-going and college-going sister, there could be no better option other than gifting her a nice and sturdy handbag. She will definitely love to have a good quality bag to keep her laptop and books.
Chocolates: Just like make-up kit is the synonym to the best return gift, chocolates also hold top position in the list of best gifting options. You and your sister can enjoy delightful chocolates and create more memories of Raksha Bandhan.
Lucky Plants: This Rakshabandhan, wish your dearest sister all the very best for her future and new life coming ahead with a lucky plant. She can keep it in her room and will never forget the special time you both have spent together.
Home Décor Items: Home decoration is one of the most essential parts of the Raksha Bandhan celebration. By gifting her a perfect home décor item, you can add more glitter and glam to the festival. Wall hangings, photo frames, cute miniatures, and lamps are some of the best options to choose from.
Personalized Gifts: Personalized gifts are among one of the perfect ways to express the palpable sense of affection, sentiments, and love. Personalized mugs, cushions, cakes, and photo frames are the bestsellers.
Rakhi Gifts for Bhaiya Bhabhi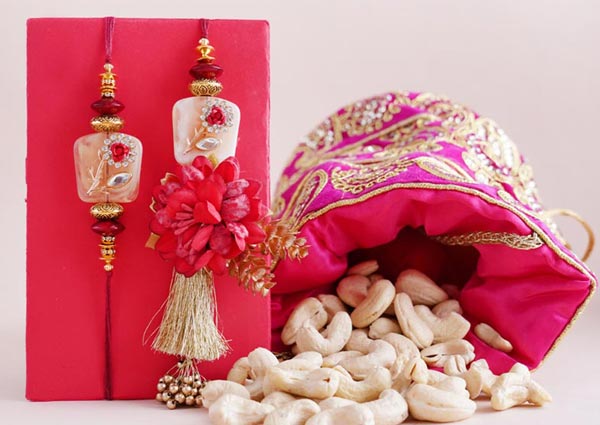 People have known Rakshabandhan only as the festival dedicated to the siblings' love. But, according to the age-old Marwari tradition, the festival of Rakhi also signifies the relationship between sisters with their sisters-in-law. Sisters tie a Lumba Rakhi on their bhabhi's wrist along with their brother and pray for their long time, well-being, happily married life, and togetherness. But, just like every other festival, Raksha Bandhan is also incomplete without the special gift exchange ceremony. We have curated this list having some amazing and aptest Raksha Bandhan gifts for bhaiya bhabhi. Check the list and infuse more happiness in this festival:
Bhaiya Bhabhi Rakhi Set with Sweets: Talking about Rakshabandhan, it is almost impossible not to include Bhaiya Bhabhi rakhi set in the list. If your brother and sister-in-law will not join you for the celebration, just send them couple Rakhi set with delicious sweets with your blessings and wishes to make this day special for them.
A Family Collage: Gifting a thoughtful gift is one of the simplest ways of showcasing your love and affection. For your dearest bhaiya and bhabhi, a lovely family collage will be the best gifting option.
Home Decors/Kitchenware: This gift is basically for your dearest bhabhi, who loves to decorate her home aesthetically and elegantly. To help her, you can send pretty home décor items or some classy kitchenware items as a Rakhi return gift.
Cake with Flower Bouquet: The main reason for sending gifts is to make the occasion more special. So, send a combo of cake and flower bouquets along with Rakhi for bhaiya and bhabhi to make this day more special for them.
Plants with Rakhi Set: Talking about the Rakhi gift combos and hampers, you can never go wrong with plants for your bhaiya and bhabhi. This Raksha Bandhan, send a nice plant along with a designer bhaiya bhabhi Rakhi set to wish them wholeheartedly.
Dry Fruit Basket: Make this festival super special and healthy for your dearest brother and sister-in-law by sending them a basket full of super healthy dry fruits. You can also customize the basket as per your choice to make it extra special.
Weekend Getaway: Bhaiya Bhabhi Rakhi paired with an exclusive weekend will undoubtedly be one of the best ways to make this occasion more special and memorable. Your brother and sister-in-law will have some quality time together away from tensions.
Warm Closing
Raksha Bandhan is one such special day that falls only once a year, and thus, it is very important to hands-on the prudently best Rakhi gifts. And, to get the job done beautifully and with perfection, Rakhi.in is here with its uniquely designed and latest gift collection for Rakshabandhan 2023. Apart from gifts, you can also avail online Rakhi delivery services from here. You can effortlessly send Rakhi to USA from India and other countries as well like UK, UAE, Singapore, France, and across the globe with free shipping.
Best Rakhi Gift
Gift Guide for Rakshabandhan