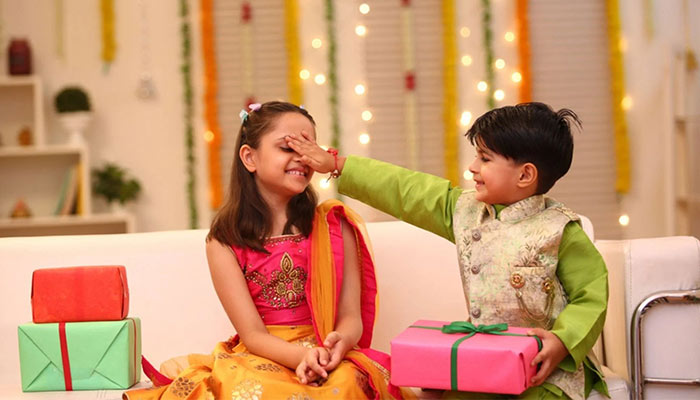 Best DIY Rakhi Gift Ideas for Kids
Raksha Bandhan is a Hindu festival that honors the pure bond of love between brothers and sisters. It falls in the Shravan month of the Hindu calendar on the full moon day. Brothers and sisters share a unique bond. They often have fights with each other but also support each other. A bond like theirs is eternal and unbreakable. This occasion also brings the best opportunity to show your love and affection to you siblings.
What better way to express love to your siblings than giving them gifts? You always buy some toys and clothes for your little brothers and sisters. So, why not make something for them on this Raksha Bandhan instead? A gift made by yourself shows your love, efforts, and just how much you care. DIY gifts are trending these days, and your little siblings will love receiving them. Below are the best DIY rakhi gift ideas for kids:
Handmade Photo frame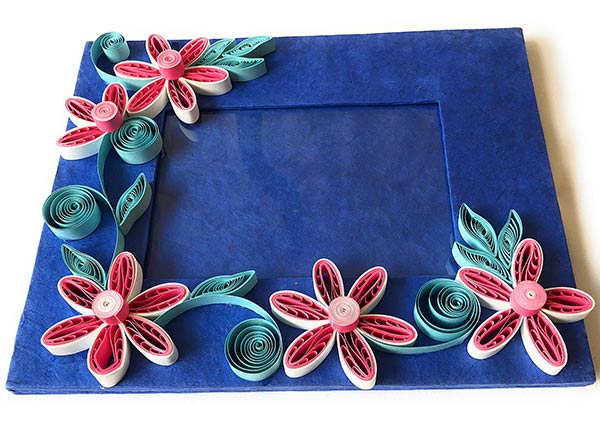 A handmade photo frame is one of the lovely gifts you can give to your adorable little brother or sister on Raksha Bandhan. You can make a DIY photo frame in many ways, such as ice cream sticks, handmade paper, cardboard, ribbons, beads, etc. Once the photo frame is done, you can paste a photograph of yourself and your sibling and gift it to your sibling at the upcoming festival. The little brother or sister will be so delighted with this handmade gift.
Bookmarks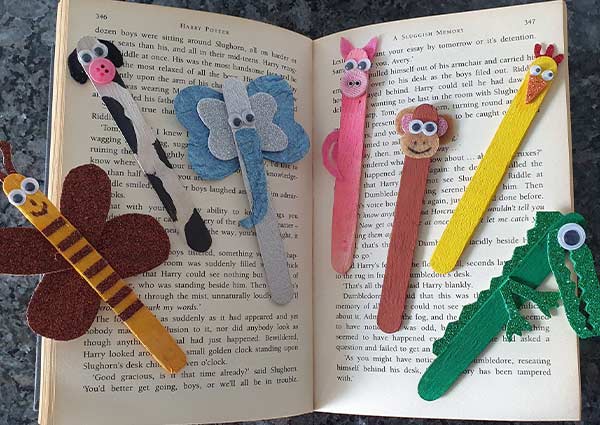 Little kids love to read colorful storybooks and novels. Reading increases their command over the language and vocabulary and enhances their creativity. For your little brothers and sisters, another excellent DIY rakhi gift for kids is bookmark. Using felt sheets, you can create bookmarks with colorful animals or patterns. You can even make bookmarks with your sibling's photos and name, making the bookmark more personal.
DIY Soft Toys
Kids especially toddlers love soft toys a lot. Many even take a soft toy like a teddy bear wherever they go. A soft toy becomes their friend, giving them comfort and a sense of security. You can also make a teddy bear or any plushie by yourself and give it as rakhi gifts for toddlers. All you need for this DIY are some wool for stuffing, fabrics, thread, beads, and ribbons. You can also make small plushies using felt sheets. There are many ways to make plushies; you can even follow some easy video tutorials online.
Pirate Treasure Chest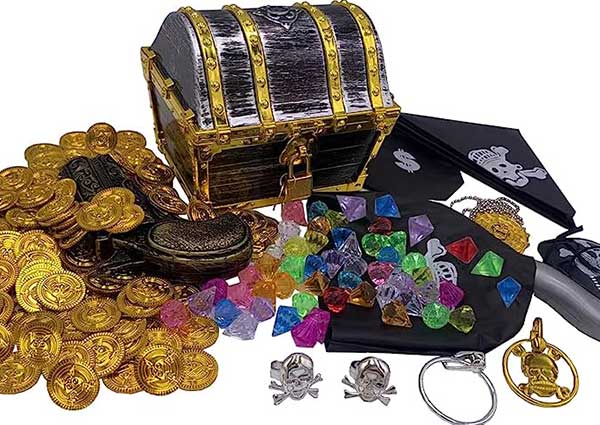 Turn gift-giving into gift-hunting for your brothers and sisters on this Raksha Bandhan with a pirate treasure chest hunt. Decorate a box to look like the treasure chest you see in all pirate cartoons and movies. You can fill the treasure box with chocolates, candies, and other treats for your siblings and hide it anywhere in the home. Draw a colorful map indicating where you have hidden the Raksha Bandhan treasure gift. This would be a fun way of giving rakhi gift to kids.
DIY Kids Apron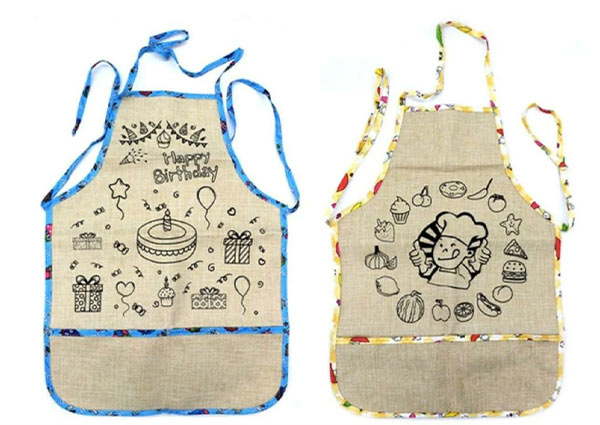 Many kids love to be their mom's favorite little helper in the kitchen. If your little sibling is one of them, they deserve their own adorable kitchen apron. You can buy a cute printed fabric or one with your sibling's favorite cartoon designs. Next time, whenever they enter the kitchen to help mom, they will wear your gifted DIY apron. It's, without a doubt, an adorable DIY rakhi gift for kid sisters and brothers.
DIY Foosball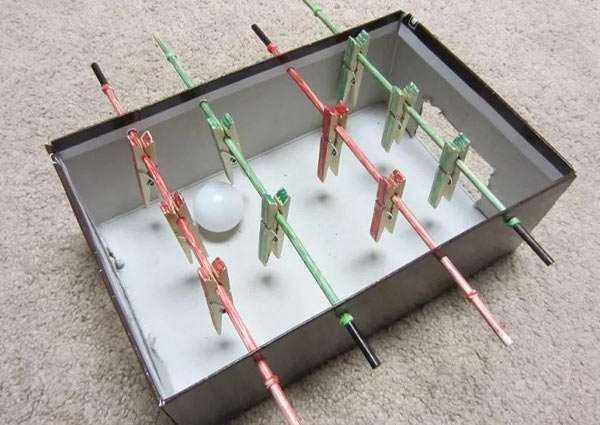 Amaze your little siblings at this festival with a cool mini foosball table, also known as table soccer. It's easy to make and only requires a few items, like colored sheets, a shoebox, cloth hanging clips, dowel rods, and small plastic balls. This mini foosball won't take much space and will be perfectly sized for your little siblings. You can also give rakhi with chocolate with this DIY gift to your sibling.
DIY Dollhouse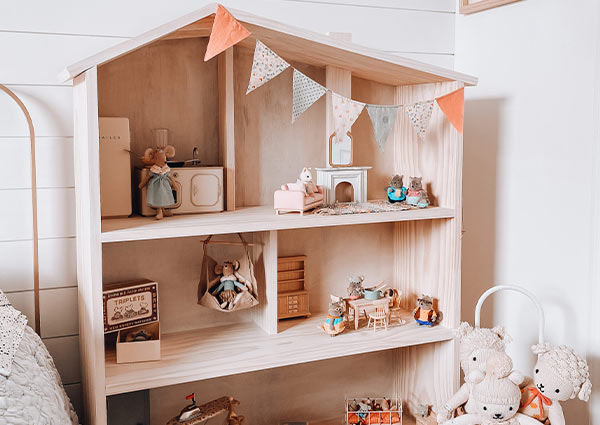 A dollhouse is an excellent rakhi gift for kid sister, a DIY one is even better. For making a DIY doll house, you will need a very big box, some cardboard, colorful sheets, and many small items which you can use to create furniture and other essentials in the miniature house. It may take some time to build a beautiful dollhouse for her, but the result will be very beautiful, and your sister will love you even more for this gift. If you don't know where to start, follow some easy tutorials online.
DIY Princess Crown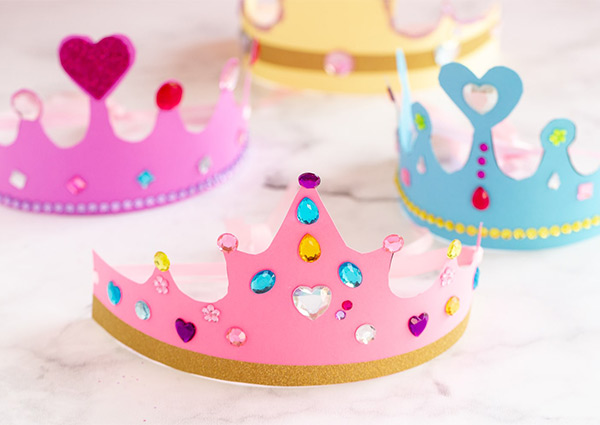 Make your little sister feel like a princess on this Raksha Bandhan by gifting her very cute DIY princess crown to her. You'll need big lace ribbons and some beads or pearls for this simple DIY. You can paint the lace ribbons with the favorite color of your little sister and decorate it with pearls, tiny mirrors, etc. It's an inexpensive but very adorable DIY rakhi gift for sisters.
We hope you liked the DIY rakhi gift ideas for the kids mentioned above. So, which one will you make and gift to your brother or sister on this Raksha Bandhan? Giving a gift doesn't always mean getting something from the store. You can make something by yourself which will mean a lot more. It's the efforts and the thought put into the gift that matters the most.
DIY gifts for kids for rakhi
DIY kids rakhi gifts
rakhi gift for kid sisters
rakhi gift for kids
rakhi gifts for toddlers