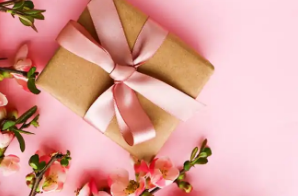 Here is your most Economical list of Rakhi Gift Hampers under INR 699
That urge to shop online during the festival is so strong that we usually spend a lot more than the budget. And while it's ok not to calculate your expenses when spending on auspicious things and festive occasions, there is still a limit to going out of limit too. On occasions like Raksha Bandhan, we buy clothes, gifts, snacks, and stuff to perform rituals. While this can be tiring, it can also land you in a situation where you have to manage your budget. You can save yourself from such problems by looking at the great and most budget-friendly gift list for Raksha Bandhan 2023.
The benefits of having these hampers on Raksha Bandhan are many. Starting from:
They all are inclusive of pretty rakhis. Some of them even have more than one rakhi in them.
None of these hampers exceeds the 699/- limit.
There are multiple options, so getting your ideal designs and hamper is easy and possible.
All of these hampers have complementary roli and chawal packs.
It will be fantastic to have such worthy gits on Raksha Bandhan for our siblings and dear ones. But before buying these hampers from rakhi.in, you should read about them properly to make a better choice.
A budget-friendly hamper is the best hamper.
From rakhi delivery in Kolkata to sending rakhi to Hyderabad, you can celebrate an economical Raksha Bandhan with your brother who lives away from you. All these hampers can be shipped across India, so read their details and order them ASAP before your favorite one goes out of stock.
Here is the list of 10 rakhi hampers under INR 699, available only at rakhi.in:
Rakhi with chocolates in the signature box: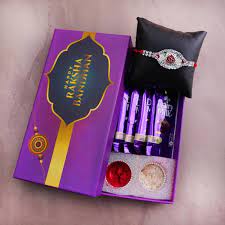 Chocolates are everyone's favorite, and when it's the festive season, even those who are not fans of this universal dessert accept it wholeheartedly. This box has two rakhis and a set of 4 chocolates that comes in a beautiful signature box. So, if you have more than one brother, Raksha Bandhan is sorted because this box has enough chocolates to satisfy all of them.
Auspicious Rakhi Celebrations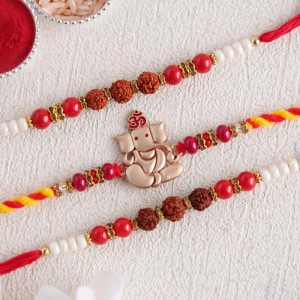 If you ask us what we would send to our cousin brother who lives in Kolkata, then our honest answer will be this hamper. And we would choose this hamper to send rakhi to Kolkata because the craze of Cadbury celebrations amongst people on Raksha Bandhan is next level. On top of that, the Ganesh rakhi in this hamper is a perfect rakhi design to send to a beloved brother for who you wish nothing but the best. So, this hamper is a great option to select on Raksha Bandhan.
Money Plant with Silver Rakhi, Chocolates, and Ganesha
Are you kidding us? It sounds impossible to have all these things in a hamper under INR 699. But it is true. And the best part is that we haven't even revealed its value until now. The cost of this hamper is INR 399. You only have to pay 400 rupees to get a hamper of these four things on Raksha Bandhan, and your festival gifting is sorted. The products in this hamper are of the best quality, and you will make one of the best decisions if you buy this super economical hamper. Ganesh Ji's sculpture's detailing is beautiful and vibrant with white and red colors. On the other hand, gifting Ganesh Ji to your brother with a money plant is as auspicious as it could get. Completing this hamper with chocolates and rakhi makes it a perfect hamper for the occasion.
Mini chocolate bucket, rakhi, and fridge magnet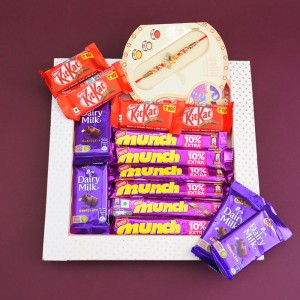 Another full-blown hamper loaded with exciting gifts and rakhi can make your celebrations more delightful. The good thing about this hamper is its unique offerings like a fridge magnet with a quote for your brother and many chocolates in the chocolate bucket. This already sounds like a beautiful gift, so buying it for your brother is undoubtedly a good idea.
Rudraksha Rakhi with chocolates and Jade plant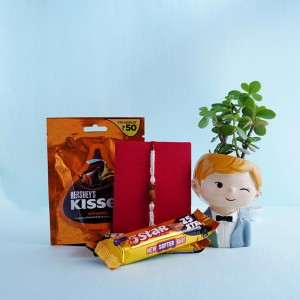 What is that one thing that comes to your mind immediately when you hear the word rudraksha? For us, it's lord Shiva, and we know it's the same for you. Rudraksha beads and their association with Shivji drive people crazy for this bead. Its auspiciousness is unmatched; hence, there's a lot of demand for rudraksha rakhis, too, during Raksha Bandhan. And if you have faith in the auspiciousness of Rudrakh too, you must buy this hamper with a beautiful rudraksha rakhi in it. It also has chocolates and a jade plant that hails from the money plant family and is known as a magnate to attract money and positivity in your life. Aren't you getting too much in just 699 rupees? The order now before it's too late!
Golden rakhis with dry fruit chocolates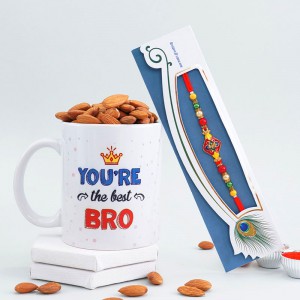 There are dry fruits, there are chocolates, and then there are chocolate-coated dry fruits. Trust us on this, there's no better, exotic, and impressive gift than dry fruit chocolates. This hamper has two auspicious golden rakhis and two different types of chocolate-coated dry fruits. The Nut Lounge almond dark chocolate and Nut Lounge hazelnut chocolates know how to leave their mark on everyone and let people celebrate a sweet and cheerful festival with the best sweets. Your brother will jump with excitement after eating these exotic sweets—an excellent budget-friendly Raksha Bandhan gift.
Kids rakhi with the chocolate basket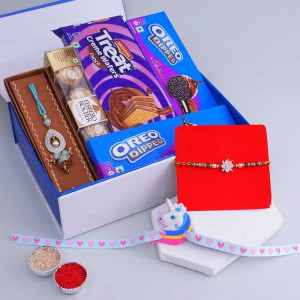 If you have a younger brother and have been looking for an exciting and chocolate-filled gift hamper for him, then your search ends here. Fully loaded with various chocolates, this chocolate basket will put a big smile on the kid's face. The Doraemon rakhi in this hamper glows and has lights in it. Overall, it is a perfect gift for any kid. You can buy this one for your nephew or send a rakhi gift hamper to Hyderabad, where he resides. The final choice is yours, while the options are endless.
Feng shui rakhi with cashews and jade plant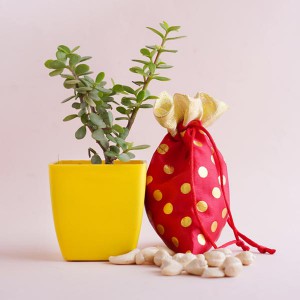 If there's a craze for any modern designer rakhi, it's feng shui. Even though a different culture inspires its design, people still love buying this one, and you are getting this exquisite rakhi in the most economical gift hamper with cashews and jade plant. Crunchy cashews at festivals are not just appreciated but an excellent gift for those who are not much into chocolates and sweets. The jade plant on top of that will remind the receiver that his sister always buys mindful and valuable gifts for him. Show him how creative you are and send this rakhi to your brother's doorstep from rakhi.in.
Golden meenakari rakhi with almonds and mug combo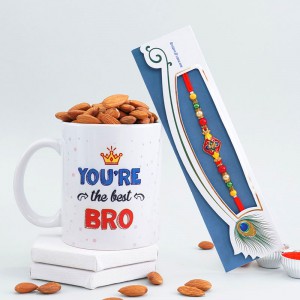 As far as we have seen, Meenakari rakhi designs have always been in trend and in demand since people started buying beautiful designer rakhis and stopped tying simple threads to their brothers. Meenakari rakhis are the true definition of traditionally beautiful rakhi. The festival becomes much happier when gifted with a helpful thing like a mug filled with almonds.
Rakhi with sweets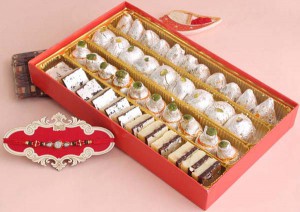 What if we tell you we have a rakhi with sweets hamper for you where there are two designer rakhis and a box of soan papdi that comes in the range of INR 699? Will you believe us? If not, head to our website and see how we have multiple options where you can buy sweets and rakhi most conveniently and economically. One of the examples is this one with a designer rakhi and a golden rakhi with a box of sweets for you to much on with your brother. Buy this hamper and make your festival sweeter with soan papdi and your brother's reaction to his gift.
And these are just a few options for a budget-friendly rakhi hamper that rakhi.in can provide you with. To look at many more options, visit our website and get delighted with our exclusive Raksha Bandhan collection.